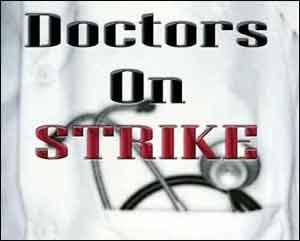 New Delhi: Resident doctors and interns at the NDMC Medical College and Hindu Rao Hospital, who are currently observing strike over delay in payment of their salaries are set to go on an indefinite strike if their demands are not met by May 20.
Medical Dialogues had earlier reported that the strike where the resident doctors did not attend duties from 9.30 am to 12 noon on May 16, demanding payment of their salaries from the NDMC administration. The protesting doctors further threatened of complete shutdown if their demands are not met.
Read Also: Hindu Rao Hospital Delhi not paying salaries: 450 doctors threaten shut down
Speaking to Medical Dialogues, Dr Rahul Chaudhary, President of Resident Doctors Association (RDA)at Hindu Rao Hospital stated that this is just a token strike that they are observing as a sign of protest against the non-payment of their salaries. "We had a talk with the administration also, which has claimed that they under financial crisis, that's why they are unable to pay their dues. While Delhi Government says that they have released the funds, MCD says the government has not released the funds yet," he alleged.
The doctors have planned to conduct a parallel OPD for patients while not completely boycotting health service to the concerned patients during the indefinite strike that they will observe from May 20.
In a press note issued by the Resident Doctor's Association of the institution, the medicos put forward their demands from the civic body.
They have not been given the salary for the last three months, they are demanding salary for at least two months so that they can call the strike off.
They demanded that the salary should come on time in the future
Further, the RDA pointed out several deficiencies at the hospital including:
The condition of the wards, OPD building, doctors duty rooms are in a very bad condition. The Hospital administration has been informed several times but nothing has been done till now.
There are no proper drinking water facilities in the hospital for the patients and doctors
Despite having PG (DNB) hospital, there is no 24-hour library facility.
The condition of the hostels for PG and MBBS medicos is very bad. There are no proper basic facilities like clean drinking water, sanitation, the mess.
There has always been a lack of proper medicine supply; even in the emergency ward, the medicines are not available.
On 14th May, the resident doctors and the interns went on strike and the issues were raised in meeting with Additional Commissioner. The issues are not resolved yet.
According to sources from NDMC, the municipal corporation, who is suffering from financial crisis, has been facing hardships in regular payment of salaries to its employees, including sanitation workers and those serving in other departments.
The president of Resident Welfare Association at the hospital, Dr Rahul Chaudhary stated, "We are making special efforts like working extra hours to ensure the patients do not have to suffer. But, we can not work like this for long and an indefinite strike will be there if the administration fails to redress the salary issue."
Dr Chaudhary informed the Medical dialogues that a "PIL has been filed in the High Court regarding delayed salary of Hindu Rao Hospital Doctors."
Garima joined Medical Dialogues as Reporter in 2017. She covers all the Healthcare news in different categories. She is a graduate from Delhi University. She can be contacted at editorial@medicaldialogues.in Contact no. 011-43720751
0 comment(s) on With no Salary relief in sight: Hindu Rao Hospital Doctors resort to Indefinite Strike