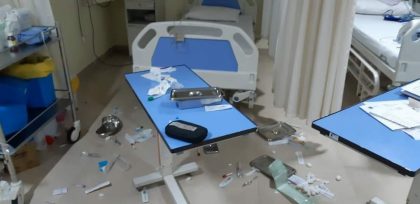 Mumbai: Enraged over the death of a highly revered religious leader, a fumed mob of over 300 followers erupted chaos at Wockhardt hospital alleging medical negligence.
The religious leader, 56 was a known hypertensive. He was rushed to the hospital after he complained of chest pain. At around 1 AM, he was brought to the emergency room in an unresponsive state.
The patient was having ventricular tachycardia. Subsequently, he was given CPR, but he died soon after 45 minutes.
Infuriated with the death, his followers went amok at the hospital premises alleging medical negligence and started vandalizing the emergency room. They broke glass panes and damaged vehicles that were parked outside the hospital.
During the vandalism, the doctors and nurses hid in the minor operation theatre and locked themselves. Police arrived at the hospital, who after noticing the seriousness called commandos. The mob left soon after.
When asked about the allegations made by the agitated devotees, Dr Sharad Yadav, Emergency Physician confirmed to Asian Age, "Immediately after the patient was brought, I along with my team personally commenced CPR measures. The CCTV cameras have recorded the entire sequence of events."
"Some mischief mongers had apparently spread the rumour which sparked the trouble. Nor the kin, neither the hospital have registered any complaint with us," a police officer told the daily.
14 comment(s) on Wockhardt Hospital: Doctors hide in OT as mob of 300 vandalize Hospital