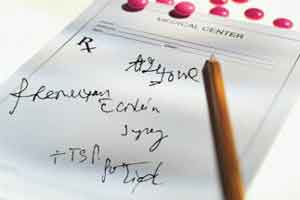 Time to say goodbye to the illness of bad handwriting.
The health ministry will soon come out with a gazette notification (under the MCI regulations) directing Physicians to write prescriptions "preferably" in CAPITAL LETTERS. The move comes as a solution to the problem of illegible prescriptions that causes great problems for the patients as well as chemists. The doctors will further be required to prescribe the drugs with generic names to ensure rational use of drugs
"The Central government has approved to amend Indian Medical Council Regulations, 2002, providing therein that every physician should prescribe drugs with generic names in legible and capital letters and he/she shall ensure that there is a rational prescription and use of drugs," said Mr J.P Nadda, the Union Health Minister.
Mr Nadda had in the Lok Sabha earlier agreed with concerns of some parliamentarians that illegible prescription by doctors may lead to serious implications and even death in certain cases. The Minister had assured them that corrective measures were being brought about.
The move is directed to reduce prescription errors as well as bring uniformity in prescription. As there are number of brands providing the same drug salt specification, patients would now have the freedom to choose a brand of their choice. Moreover, writing in capital letters would alleviate the problem of misinterpretation and hence wrong medications.
However, a senior health ministry official has said that there would no penalties or punishment for the doctor as such for not writing in capital letters.
0 comment(s) on Write in CAPITAL LETTERS: Health Ministry to Doctors