10.41 lakh Registered Doctors in India, Maximum in Maharashtra: Health Minister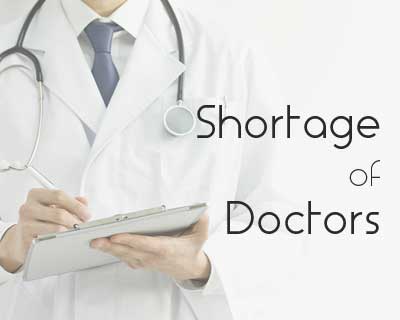 It is estimated that around 8.33 lakh doctors may be actually available for active service giving an approx doctor-population ratio of 1:1596 much below the WHO norms prescribes that there should be 1 doctor amongst the population of 1,000
New Delhi: 
Recently, through a written reply to a question in Rajya Sabha, Minister of State ( Independent Charge) Smt Anupriya Patel informed about the Registration of Allopathic Doctors with various medical councils across the country.
The minister informed that as per information provided by Medical Council of India, there are a total 10,41,395 allopathic doctors registered with the State Medical Councils/Medical Council of India as on 30th September, 2017.
Assuming 80% availability, it is estimated that around 8.33 lakh doctors may be actually available for active service. It gives a doctor-population ratio of 1:1596 as per current population estimate of 1.33 billion. However, WHO norms prescribes that there should be 1 doctor amongst the population of 1,000.
As per records, Maximum number of registered medical practitioners have their registrations in Maharashtra with 153513 registered doctors. This is followed by Tamil Nadu and Karnataka who also account for more than 1 lakh registered doctors each.
State-wise details of doctors registered with State Medical Councils / Medical Council of India and number of PHCs with doctors working therein are given below:
Number of Doctors Registered with State Medical Councils / Medical Council of India  as on 31st  December, 2017
| | | |
| --- | --- | --- |
| Sr. | Name of the Medical Council | Number of Doctors |
| | Andhra Pradesh Medical Council | 86129 |
| | Arunachal Pradesh Medical Council | 840 |
| | Assam Medical Council | 22532 |
| | Bihar Medical Council | 40043 |
| | Chattisgarh Medical Council | 6915 |
| | Delhi Medical Council | 16176 |
| | Goa Medical Council | 3367 |
| | Gujarat Medical Council | 53954 |
| | Haryana Dental & Medical Council | 5717 |
| | Himachal Pradesh Medical Council | 2849 |
| | Jammu & Kashmir | 14326 |
| | Jharkhand Medical Council | 5093 |
| | Karnataka Medical Council | 104794 |
| | Madhya Pradesh Medical Council | 34347 |
| | Maharashtra Medical Council | 153513 |
| | Medical Council of India | 52666 |
| | Nagaland Medical Council | 801 |
| | Orissa Council of Medical Registration | 21681 |
| | Punjab Medical Council | 44682 |
| | Rajasthan Medical Council | 40559 |
| | Sikkim Medical Council | 893 |
| | Tamil Nadu Medical Council | 126399 |
| | Travancore Medical Council | 55251 |
| | Uttar Pradesh Medical Council | 71480 |
| | Uttrakhand Medical Council | 7060 |
| | West Bengal Medical Council | 66974 |
| | Tripura Medical Council | 0 |
| | Telangana Medical Council | 2354 |
| | Total | 10,41,395 |
The other State / UTs do not have their own Medical Registration Council. Hence, their workers get registration with the Councils of other neighbouring States