11 Reasons why Doctors are opposing National Medical Commission Bill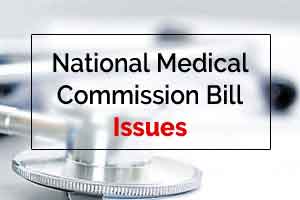 With the National Medical Commission Bill being sent to the standing committee, it is important that viewpoints and concerns of the entire medical profession be taken up and incorporated before the bill is again tabled in the parliament.
Recently, a Discussion on National Medical Commission (NMC) Bill was organized by RDA AIIMS in the presence of Vice president DMA and president JACSDO Dr Rajeev Sood, DMC registrar Dr. Girish Tyagi, Dr. Anoop Saraya HOD dept. of gastroenterology AIIMS, and various faculty of AIIMS like Dr. Minu Bajpai, Dr. Piyush Ranjan. Representatives from RDA AMU Aligarh, ARD PGI Chandigarh, RDA Lady Hardinge hospital, RDA RML hospital, representatives of FORDA, and various RDAs from all over India, private practitioners from Delhi, Haryana, Punjab,UP, Rajasthan, delegation of AYUSH doctors' association from Haryana, representatives of student Union, Nurses union and other associations of AIIMS.
In the presence of 500 audiences of doctors, the AIIMS RDA discussed the National Medical Commission Bill and following conclusions have been made
1) We reject this bill in its present form for all aspects
2) This bill requires a complete makeover rather than amendments because it will not solve the purpose for which it was made.
The AIIMS RDA has submitted the 11 demands of the medical professionals to reframe the existing National Medical Commission Bill. Following are the reasons why we are opposing the bill
1) This bill promotes bureaucratization and politicization of medical education and doesn't provide independence to the NMC. It will be more like the puppet in the hands of government and bureaucrats. Most of the members are nominated by the government and suggested by bureaucrats.
2) Decision on fees regulation of only up to 40 % and providing a free hand to private medical colleges is the worst part of the bill which will lead to the promotion of capitation and will increase the cost of medical education to a tremendous level. It will move the medical education out of the reach of the poor and underprivileged section of society.
3) No strict guidelines to regulate functioning of private medical colleges was mentioned in the bill, only monetary penalty that too not specified
4) National licentiate examination (NLE) is a welcome step for quality assurance of medical education but there is no clear description that how will this exam be conducted, whether objective MCQ based, subjective or clinical assessment or all together. There is no description whether bridge courses holder will also have to appear for NLE or not. And if not then how to ensure quality for bridge course holders. As this exam will also give entry to postgraduate courses but every year around 65000 doctors pass MBBS and give PG entrance exam for around 15000 seats. So what will happen to all those who cleared licentiate exam but didn't get PG seat, whether they have to appear for NLE again next year or score of previous year will be calculated, and it will create a big backlog and further deteriorate the situation of medical graduates. Overall the concept is good but India is not ready for it yet.
5) No clear guidelines for registration process, whether registration is required every year or not
6) Though granting permission for establishing medical college is big task but the whole authority is given to single board named medical assessment and rating board (MARB) with only one president and two members of board.
7) A person who wants to establish the medical college and was refused by MARB and also by commission can appeal to government and might get permission. This opens doors for corruptions as a close ally of politician might be benefitted from this clause.
8) No clause for grievances redressal for students if they felt betrayed or looted by private medical colleges. No provision for them to say their words to board or commission.
9) Bridge course - this is the most unacceptable step of government, everyone in single voice complete refused the concept of bridge course, there is no clear definition of bridge course, what purpose it will serve, where they be recruited, whether they appear for licentiate examination, whether they will be trained enough to be liable for medico-legal cases and medical negligence, if not then is it ethical to allow them to practice. overall medical sciences and modern medicine are complicated issue to understand and government must consult medical professionals before taking such irrelevant decisions because by doing so it will play with health of Indian public which will not be an acceptable approach. Delegates from AYUSH also said that it's insult forAYUSH practitioners for asking them to do bridge course and practice allopathy like a registered quack.
10) There is no description of foreign citizens in the bill, if they want to get register in India then what examination they will appear.
11) No clear description regarding the necessity of National board of examination (NBE) why it won't be merged with NMC, why we need 4 boards in NMC and fifth as NBE.
Overall this bill has flaws in each and every section of it, we will not accept this bill in present form and will rewrite the complete bill with possible solutions as discussed in the meeting and will submit our proposed bill to chairman standing committee and also to union health minister. We will also request chairman, standing committee to give us time to present our proposed bill in front of them.
The Author is an SR with the Geriatic Medicine Department, AIIMS and the President of The AIIMS RDA Association