17 AFMS Hospitals recognised as Teaching Hospitals: MCI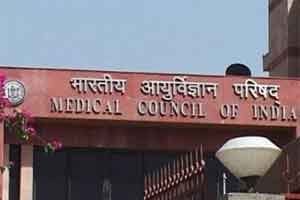 New Delhi: 17 Armed Force Medical Services (AFMS) Hospitals have been now recognised as teaching Hospitals in a bid to facilitate the training of medicos in various specialities
A confirmation to this effect was recently given by the Union Minister of Health and Family Welfare and the decision came in the last meeting of the Board of Governors of the Medical Council of India (MCI BOG).
MCI BOG decided to grant retrospective teaching recognition for the 17 AFMS hospitals w.e.f. 2003 onwards (the period when the recognition was withdrawn by MCI) .This recognition will be applicable only in the specialities where interns are being trained. At present internship involves compulsory 2 months training in Community Medicine; 2 months in Medicine including 15 days Psychiatry, 2 months in Surgery including 15 days Anaesthesia; 2 months in Obst. & Gynae including Family Welfare Planning, 1 month in Orthopaedics including PMR; 15 days ENT, 15 days Ophthalmology, 15 days Casualty. Elective Posting (1 x15 days) 15 days - (i) Dermatology and Sexually Transmitted Diseases (ii) Tuberculosis and Respiratory Diseases (iii) Radio-Diagnosis (iv) Forensic
Medicine (v) Blood Bank (vi) Psychiatry.
Recognition has been given to the following 17 AFMS hospitals as teaching hospitals


Command Hospital, Pune


Cantonment Gen. Hospital, Pune


Military Hospital (Aundh), Pune


Military Hospital, Kirkee


Military Hospital, Jullundhur


Military Hospital, Bareilly


Military Hospital, Secunderabad


Military Hospital, Pathankot


Military Hospital, Agra


Military Hospital, Jabalpur


Military Hospital, Ranchi


Base Hospital, Udampur


Air Force Hospital, Jorhat


Air Force Hospital, Kanpur


Military Hospital, Roorkee


Military Hospital, Meerut


Military Hospital, Srinagar