25 AIIMS Super specialist doctors camp in Leh to serve poor people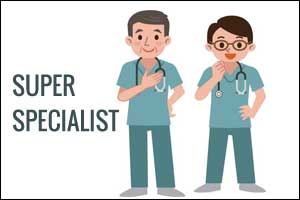 Leh: A team of over 25 super specialist doctors from New Delhi's All India Institute of Medical Sciences (AIIMS) is conducting a week-long free medical camp for the poor at Sonam Norboo Memorial Hospital in Leh. The super specialists are also making efforts for capacity building of local doctors.
Speaking about the camp, Ladakh Autonomous Hill Development Council's Chief Executive Councillor Dorjey Mutup expressed deep gratitude to the AIIMS doctors. He further said that their services would not only provide high-quality medical treatment to the poor but would also help local doctors gain experience by assisting the AIIMS super specialists during the camp.
AIIMS Gastroenterology department head Anup Saraya said that they are making efforts to train the local doctors so that the patients don't have to come to Delhi for their advanced medical treatment.
"We are coming here for the past 15 years and we treat poor patients who are not in a position to come to Delhi. In the meantime, we are also trying to build the capacity of local doctors to treat and cure those ailments for which they have to come to us in Delhi. These local doctors are also working tirelessly to mobilise people from far areas in order to provide them with medical treatment from us," Saraya said.
Meanwhile, AIIMS Orthopaedics department head Chander Shekhar Yadav said, "Earlier we didn't have any facility for conducting surgeries here in Leh. But, now we have installed required machines in the hospital so that we can at least carry out the knee and hip replacement surgeries as and when required.