3 children dead 5 others serious post DPT vaccination in Palamu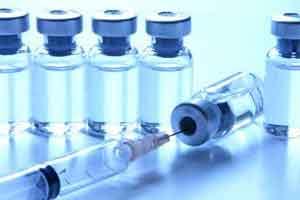 Daltonganj:  Three minors lost their lives while another five were hospitalised in a serious condition after being administered DPT vaccination at a primary healthcare center located at Loyinga under Patan Block of the Palamu district.

Villagers said that at the sub-health care center eight children were given DPT injections yesterday. However, last night all of them complained of nausea and started vomiting. Since it is common symptom in small children after vaccination, the parents did not take the matter seriously.

But as the condition of the children declined further, they were taken to the near-by primary health care center where three of them died. Five other children were sent to Sadar Hospital Daltonganj for better aid.

Post the incident, the villagers got agitated, and held ANM Draupadi Pandey and her husband hostage and stopped traffic movement on the road, today.

Palamu Civil Surgeon Dr Kalanand Mishra said that Rotavirus injection has yet not reached Patan, therefore, he was not in a position to tell which vaccine has been administered to the children. He said, incharge of Patan Health Care center and block BPM have been sent to the spot and after the probe the situation would be clear. However, he maintained that the condition of the children admitted at Sadar Hospital was out of danger.

Chattarpur MLA, Radha Krishan Kishore, who later reached the village, held dialogue with the villagers who had staged road blocked. The MLA spoke with Principal Secretary of the Chief Minister, Sunil Barnwal, who said that within couple of hours a compensation of Rs 1 lakh would be given to the kin of the deceased children and arrangements will be made for treatment of the ill children.

Speaking over phone, Principal Secretary of the Health Department, Nidhi Khare said, Director Health Sumant Mishra will conduct a probe into the incident and all guilty will be punished after which the villagers called of their agitation.

Meanwhile, the police team has sealed the vaccine which was given to the children and will be handed over to the state level team for examination.