3 newborns dies at Raipur Hospital, after drunk staff allegedly disrupts oxygen supply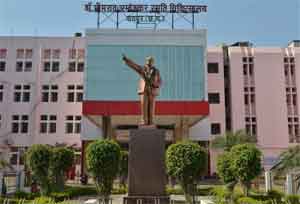 Raipur: Three newborns died in the neonatal intensive care unit of a government hospital in Raipur with their relatives blaming it on disruption in oxygen supply, a charge denied by Chhattisgarh health officials.
Chief Minister Raman Singh ordered a probe into the deaths of the babies, who were on ventilators due to various health complications, in the Dr BR Ambedkar Memorial Hospital on Sunday.
While relatives claimed the children died due to an irregular oxygen supply, health officials denied the charge and claimed the deaths were because of different reasons.
However, a hospital staffer deputed at the oxygen supply plant in the premises was arrested for laxity in discharging his duties. He was allegedly found to be drunk.
"Three children, who were on ventilators in the special newborn care unit, died yesterday due to different reasons. These deaths have no connection with the so-called disruption of oxygen supply," Health Secretary Subrat Sahoo told reporters.
"Of them, one child had died at 12.30 pm yesterday due to low birth weight and other complications, while another died at around 1.30 pm due to respiratory failure and heart-related issues.
"The third child died at 10 pm due to respiratory failure and other problems," Sahoo said.
The secretary, however, said a hospital staff member, Ravi Chandra, who was on duty at the oxygen supply unit from 2 pm to 8 pm on Sunday, has been arrested.
"At around 5 pm, a doctor in the paediatric unit observed that oxygen volume level in the reservoir (main oxygen tank) had dropped.
"Though there was no disruption in oxygen supply in the unit, the doctor immediately tried to contact on-duty staff Ravi Chandra but he could not be contacted," he said.
Later, Chandra was found in an inebriated state. A police complaint was lodged against him and he was arrested, the officer added.
Sahoo maintained that oxygen supply was not at all disrupted and the reservoir's volume level was restored to normal range within 15 minutes after the drop was noticed.
Sahoo said post-mortem of the children was yet to be done.
The chief minister has asked senior health officials to probe the matter.
"No one responsible for this tragic incident will be spared," Singh said in a statement.
The main opposition Congress and relatives of the children, while talking to reporters, alleged that negligence in oxygen supply led to the deaths.
"The government is trying to cover up the death of the children due to disruption in oxygen supply," state Congress spokesperson Gyanesh Sharma said and demanded a high-level inquiry into it.
Udaykumar Vishwakarma, a relative of one of the babies, said, "We came to know from the hospital staffers that there was some problem with the oxygen supply in the unit. We tried to ask the doctors about it but they did not respond."
Vishwakarma had come from Balaghat district of Madhya Pradesh for the treatment of his niece.