306 arrests made under PC-PNDT Act: Nadda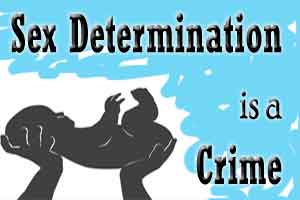 Under the PCPNDT Act, 1994  a total of 1,573 ultrasound machines has been sealed and as many as 2,152 court cases filed by state appropriate authorities and 306 arrests made for violation of Pre-Conception and Pre-Natal Diagnostic Techniques (Prohibition of Sex Selection Act), the Rajya Sabha was informed.
Speaking during Question Hour, Health Minister J P Nadda said further registration of 100 medical professionals convicted under the Act had "either been suspended or cancelled by the State Medical Councils concerned."
Quoting from the National Crime Records Bureau, Mr. Nadda said 50 cases of female foeticide had been reported from across the country in 2014.
In order to Implementation of the PCPNDT Act in a strict manner the Govt has take several steps in forward to the same, Nadda spoke in a reply. These include:-


The Government is rendering financial support to the States and UTs for operationalization of PNDT Cells, Capacity Building, Orientation &Sensitisation Workshop, Information, Education and Communication campaigns and for strengthening structures for the implementation of the PC & PNDT Act under the National Health Mission (NHM).


A National review under the chairmanship of Additional Secretary and Mission Director, MoHFW was held on 21st September, 2015 through video conference.


Program review at the state level has been intensified.  Five regional review workshops for North, West, Central, North East and Southern regions were organized during 2014-15.  During 2015-16 three regional review workshops have been organized for Northern Eastern, Northern and Eastern States in Imphal, Chandigarh and Bhubaneswar respectively.


National campaign "BetiBachao, BetiPadhao" was launched in 100 gender critical districts in partnership with the Ministry of Woman and Child Development and the Ministry of Human Resource Development.


 Directions given by the Hon'ble Supreme Court in the matter of WP(C) 349/2006 (Voluntary Health Association of Punjab vs. UOI & others), were communicated to the States/ UTs time to time for ensuring compliance.


Inspections by the National Inspection and Monitoring Committee (NIMC) have been scaled up. In year 2014-15, 19 inspection visits have been undertaken in different States.  During 2015-16, 22 NIMC inspections have been undertaken in the States of Punjab, Puducherry, Tripura, Sikkim, Uttar Pradesh, Odisha, Bihar, Mizoram, Andhra Pradesh, Haryana, Rajasthan, Maharashtra, Gujarat, Telangana, Chhattisgarh, Jharkhand, Assam, Uttarakhand, Karnataka, Tamilnadu, Madhya Pradesh and West Bengal.


States have been advised to focus on Districts/Blocks/Villages with low Child Sex Ratio to ascertain the causes, plan appropriate behaviour change communication campaigns and effectively implement provisions of the PC & PNDT Act.