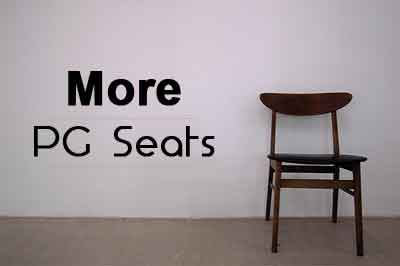 New Delhi: The Ministry of Health and Family Welfare (MoHFW) has sent a communique (letter to permission) to various medical colleges affiliated with the Medical Council of India (MCI) to either increase the number of seats in post-graduation courses or  introduce the course for the 2017-2018 academic session. The notification letter directing the same was issued to various medical colleges by the Ministry on 3rd January, 2017.
The MoHFW has initiated this process in order to provide more opportunities to MBBS degree holders who look forward to enrolling in post-graduate courses like Master in Surgery or Doctor of Medicine (MS/MD).
Following is the list of college and the number of post graduate seats granted to each:
S.No
Name of College
Course Name
No of Seats
1
Geetanjali Medical College and Hospital, Rajasthan
MS- Orthopedics
3 (increase)
2
Government Medical College, Akola, Maharashtra
MD-Community Medicine
2 ( New)
3
Satya Sai Medical College and Research Institute, 

Tamil Nadu

MD- Radio Diagnosis

MD-DVL

 

3 (increase)

2 ( New)

4
Institute  of Medical Sciences and Sum Hospital,

Bhubaneshwar, Odisha

MD Anesthesia

MD- Psychiatry

MS-OBG

3 (increase)

2 (increase)

3 ( New)

5
Raja Rajeshwari Medical College and Hospital

Bangalore Karntaka

MS- General Surgery
4 (increase)
6
Gara Raja Medical College

Gwalior, Madhya Pradesh

MD Pathology

MD Pharmacology

2 (increase)

2 (increase)

7
Tirunelveli Medical College, Tamil Nadu
MD-Forensic Medicine
2 (increase)
8
Kilpauk Medical College, Chennai Tamil Nadu
MD-Pediatrics
2 (increase)
9
Gujarat Adani Institute of Medical Sciences, Gujrat
MS-ENT

MS-General Surgery

MD-Pediatrics

1 ( New)

4 ( New)

3 (New)

10
Karapaga Vinayaga Institute of Medical Sciences,

Tamil Nadu

MS-Ophthalmology
2 ( New)
 
 
40Total
The letter issued by the Under Secretary to the Govt. of India, DVK Rao  besides declaring the no of post graduate seats granted to each college has  also asked the institutions to provide the following  documents to the MCI:
Details of the infrastructural facilities with respect to teaching and non-teaching staff, and equipment, along with hospital facilities as per the MCI norms.
The applicant should provide all infrastructural facilities teaching and non-teaching staff, buildings. Equipment and hospital facilities as per Medical Council of India norms. No student should be admitted in the above course permission of the Central Govt. is granted.
The Private Medical College should provide Bank Guarantee of required amount in favour of Medical Council of India, New Delhi valid for three years from a nationalized/scheduled Bank as per MCI's norms against increase in seats in above said course. However, medical colleges/institutions governed by the State Govt. are required to furnish only an undertaking to provide funds in their plan budget till the facilities are fully provided as per time bound program indicated by them.
The Govt. Medical College(s) (except those colleges located in Andhra Pradesh, Telangana 86 J&K) should give an undertaking authorizing Medical Counselling Committee (MCC), Directorate General of Health Services, Ministry of Health & Family Welfare, Government of India to  include 50% of PG (Medical) seats in All India Quota PG seats for the year 2017-18 ii) till the formal
The letter also clarifies that action to grant formal permission of the Central Govt. for starting/increase of seats in the said course at the college will be initiated on receipt of a compliance report fulfilling the above  conditions.
The letter also directs the medical colleges to send the BankGuarantee/undertaking immediately in order  to enable the Govt. to issue Letter of Permission(LoP) for the year 2017-18. 
The ministry initiative is a welcome step in the direction of giving more students an opportunity for post graduation.
0 comment(s) on 40 Post Graduation seats in 10 Medical Colleges added for year 2017-18