36 Braveheart Nurses honoured with National Florence Nightingale Awards 2019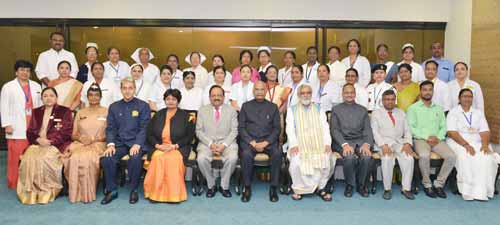 New Delhi: 36 nursing professionals were recently conferred with the National Florence Nightingale Awards 2019 for their meritorious services and immense contribution in the health sector.

The awards were felicitated by the Hon'ble President of India Shri Ram Nath Kovind on the occasion of the presentation of National Florence Nightingale Awards for Nursing Personnel held on 5th December 2019.

The President lauded the entire nursing fraternity for their sincere dedication and services to fellow citizens.

He further honoured the nurse, Lini Puthuserry posthumously for her unsurpassed dedication while taking care of patients during the Nipah virus outbreak in Kerala last year. Lini had contracted the deadly Nipah Virus Disease after treating the first index case of Nipah virus infection at EMS Memorial Cooperative hospital at Perambra, during the Nipah outbreak in May 2018.

Felicitating the effort of the nursing community in the healthcare sector, the President stated, "Nurses play a vital role in delivering quality and cost-effective health care, addressing multiple health challenges and responding to health needs of individuals, families and communities. The world is more and more in need of care and compassion, and nurses indeed are a symbol of Seva, shushrusha, Karuna. For patients and their families, nurses are the face of health care services."

"Due to your sense of service and devotion to duty, all of you from the nursing fraternity, whether in government or private sectors, have earned tremendous respect and admiration. This admiration is also evident beyond our national borders. While serving overseas, you have brought credit to our nation as well as contributed significantly through your remittances. Through your disciplined attitude and a high level of professionalism, you have earned tremendous goodwill in all parts of the world," he added.

The World Health Organisation (WHO) has announced 2020 as the Year of the Nurse and Midwife, the President recalled adding that 2020 will also mark the 200th birth anniversary of Florence Nightingale.

On their contribution to the elimination of serious life-risking ailments, he added, "Our nurses serving in community health centres and hospitals, have played an important role in the successful implementation of national health programmes like
eradication of polio, malaria and HIV/AIDS.."

He further congratulated this year's awardees for commendable contribution in these areas. He further stressed upon the considerable increase in the demand for specialized, competent and highly skilled nurses in the country. There is also a rising demand for human resource for third and fourth level care, which requires quality training institutes. To achieve this, the Government has taken several initiatives for further development of pre-service and in-service training, education and upgradation of nursing services, he said.

On geriatric care, he said that with changing lifestyles the demand for professional caregivers to take care of the elderly is on the rise. These care-givers, who need not be trained nurses, would certainly benefit from basic training in geriatric care. "Our nursing training institutions can consider developing short training programs for such caregivers too."

These outstanding nursing professionals of the country were honoured for their selfless services and dedication. These awardees will truly inspire the entire nursing community to rededicate themselves to quality healthcare.