39 lakh children vaccinated for Measles, Rubella in Punjab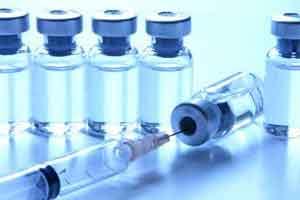 Chandigarh: Around 39 lakh children have been administered Measles Rubella (MR) vaccination since the launch of a campaign earlier this month, Punjab Health Minister Brahm Mohindra said on Tuesday.
"It was a herculean task for the Punjab Health Department to drive home the necessity of MR vaccine amidst echoic negative propaganda against MR vaccination," Mohindra said in a statement here.
The Health Department, during the vaccination campaign, had blamed some "unscrupulous and anti social elements" for trying to derail the campaign by propagating false and malicious information about the vaccine.
There were some reports that parents at a few places in the state were reluctant to send their children to schools to avoid the vaccination.
The minister said some fake viral videos about the MR campaign created doubts in the minds of parents, but people of the state vaccinated their children under the MR campaign.
"Despite all the initial hiccups, the MR vaccination campaign has been marching forward to achieve its target. The success of this campaign can be gauged from the fact that around 39 lakh children have been administered the MR vaccine, in 28 days of its launching," the minister said.
The department had planned to vaccinate 73,50,382 children in 58,783 sessions with the help of 5,200 teams.
Mohindra expressed confidence that the MR vaccination campaign would get accelerated in the time to come and set target would be achieved.
The Department of Health and Family Welfare had rolled out the 'Measles Rubella' vaccination campaign' on May 1, with the motive to vaccinate all children aged between nine months to less than 15 years in all districts of the state.
The objective of the campaign is to accelerate population immunity by reaching 100 per cent target children with the MR vaccine that would reduce cases and deaths from measles and disabilities from Congenital Rubella Syndrome, he said.