45 lakh children to be vaccinated in J&K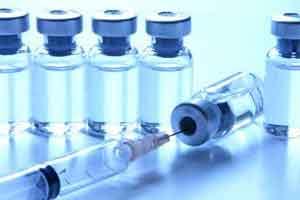 Srinagar: Over 45 lakh children would be vaccinated to prevent them from Measles Rubella disease in the Jammu and Kashmir, Director Family Welfare, Maternal and Child Health and Immunization J&K (FW, MCH&I) Dr Samir Mattoo informed on Monday.

He gave this information at two-day workshop organized on Measles Rubella Campaign, a vaccination campaign against measles here.

The workshop was jointly inaugurated by Dr Mattoo and Director School Education, Kashmir, Dr G N Itoo in presence of Dr P K Rai and Dr Srinivasan, the team Leaders from World Health Organisation (WHO).

All the Chief Medical Officers,Deputy Chief Medical Officers, District Immunization Officers of Kashmir Division, a team of doctors from WHO and UNICEF participated in the workshop.

After inaugurating the workshop, Director, FW, MCH & Immunization said that the campaign will officially commence from September and October in Jammu and Kashmir in which approximately 45 lakh children in the age group of nine months to less than 15 years are targeted for vaccination to prevent them from Measles Rubella disease.

Throwing light on the Rubella Infection, Director, Dr Mattoo said that the campaign is must for preventing children from congenital rubella syndrome (CRS) results in deafness, blindness and heart-related diseases.

He said the disease can be prevented with a safe and effective vaccination that gives long-term immunity to children.

Speaking on the occasion, Director School Education, Kashmir, Dr Itoo said that this massive campaign is being started from the schools and he assured full cooperation to concerned to make the campaign a success.

Dr Rai who had also attended the event, said that India is committed to elimination and control of rubella by 2020. To achieve this goal, he said Measles- Rubella (MR) campaign is being launched in the entire country covering all children of 9 months to below 15 years of age group.

Dr Rai further informed that this campaign will be the largest ever measles-rubella campaign launched in the world.