................................ Advertisement ................................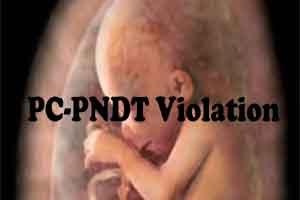 Mumbai: Five medical practitioners in the state have now received suspension orders from the state medical regulator  Maharashtra Medical Council (MMC) on account of violating the Pre-Conception and Pre-Natal Diagnostic Techniques (PCPNDT) Act
Besides, 58 medical practitioners have been given a warning in various cases that ranged from improper filling of forms to sex determination by unregistered persons. The composite action comes in response to 188 cases that were forwarded to the State Medical Council on various violations of the PC-PNDT Act by the state health department
The council can take action against the medical professionals as soon as chargesheets would be filed and in reference to the PNDT Act, action would be taken as per the grade of violation.
The President of the Maharashtra Medical Council, Dr Shivkumar Utture told the Pune Mirror, "The council is very sensitive to the violation of the PCPNDT Act. Till date, we have permanently suspended licenses of five doctors. Two are from Pune and violated the Act twice. Two licenses were withdrawn last week at our last meeting."
According to media reports, around 207 PC-PNDT Act, violation cases were filed. Out of these, 16 were referred to the Indian Medicine Central Council and 11 to the  Maharashtra  Homeopathy Council and the remaining going to the State Medical Council to look into the matter.  The council completed 167 cases and the rest cases will expectedly be cleared on next hearing.
................................ Advertisement ................................
The council members informed that strict actions are taken only in cases of serious violations of sex determination with the council also finding that many of the offenders were repeat ones
Read Also: Doctors Sonogoraphy License restored, criminal action under PCPNDT Act quashed
A member of the state Medical council informed the daily, "In case of clerical mistakes, no harsh action is taken. But when it comes to sex determination, the punishment is more severe, wherein licenses are suspended."
Read Also: High Court gives Relief for Doctors, slams Appropriate Authority for misuse of power
Shagufta Joined Medical Dialogues has been associated as Editor for Education Medical Dialogues since the year 2018.  She is a graduate from Delhi University. She can be contacted at editorial@medicaldialogues.in Contact no. 011-43720751
................................ Advertisement ................................
1 comment(s) on 5 doctors in Maha suspended for violating PCPNDT Act, 58 get warning