................................ Advertisement ................................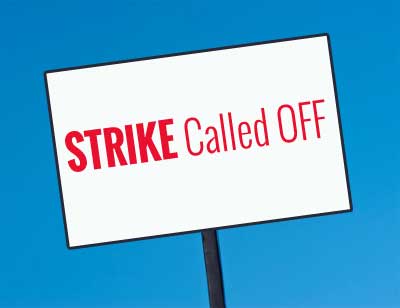 Kerela: The indefinite strike launched by the doctors attached to the Kerala Government Medical Officers Association (KGMOA) has been called off. The stir has been withdrawn after marathon discussions between KGMOA representatives and the state Health Minister K K Shylaja.
The association had called for the agitation to protest against the government decision to extend the OP time in hospitals from 9 AM to 6 PM and the suspension of a doctor, who refused to attend to work following the increase in OP timings.
The services of post-graduate doctors and house surgeons were used by the government to attend to patients coming to the OPs during the stir, officials informed. Doctors in medical college-cum-hospitals were not part of the strike.
Calling the strike 'illegal', the government had earlier warned the association that if they don't call off their agitation, stringent actions would be taken. Later, KGMOA submitted letters to Chief Minister Pinarayi Vijayan and the Heath Minister expressing that they were ready for discussions.
Subsequently, the association was called by the authorities for discussions to sort the matter, reports Deccan Chronicle.
................................ Advertisement ................................
The KGMOA, which was spearheading the agitation, agreed to call off the strike and extend out-patient (OP) time in state-run hospitals till 6 pm, the minister said.
As per the statement made by the minister, the doctors have agreed to give their full support to the 'Ardram Mission' where three doctors will be appointed to each family health centre. She said that alternate arrangements would be made when doctors go on leave and reserve team of doctors would-be prepared.
The minister stated that the authorities will consider revoking the suspension if the association submits an apology. The government had suspended a doctor at a health centre in Palakkad for refusing to attend work following the increase in OP timings.
Read Also: Kerela: Govt Doctors on Indefinite Strike against Colleague Suspension, OP Time Extension
Read Also: Kerela: Doctors Strike Enters Fourth Day, More than 4000 doctors participate
Garima joined Medical Dialogues in the year 2017 and is currently working as a Senior Editor. She looks after all the Healthcare news pertaining to Medical Education issues, Medico-legal cases, MCI/DCI decisions, government policies as well as all the news and updates pertaining to Medical and Dental Colleges in India. She is a graduate from Delhi University. She can be contacted at editorial@medicaldialogues.in Contact no. 011-43720751
To know about our editorial team click here
................................ Advertisement ................................
1 comment(s) on Kerela: Doctors call off Strike, Agree to Cooperate