58 infant deaths in four days at BRD Medical college Gorakhpur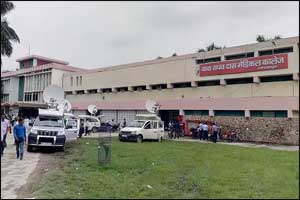 Gorakhpur: As many as 58 infant deaths have been reported from the Baba Raghav Das (BRD) Medical College here within four days.
Death of 30 children in a day at this medical college had stunned the country in August.
Confirming the deaths, Professor Dr DK Srivastava, Head of the department of Community Medicine Srivastava told reporters on Monday that 58 babies have died between November 1 to 4. He said while 32 infants were younger than one month and 26 others more than a month old.
The BRD medical college attracted global attention when more than 60 children, including infants, died at the hospital within a span of a week in August. At least 30 children died in day only due to shortage of oxygen.
This year, there have been a total of 1,317 deaths in the hospital so far.
Sixty-nine deaths had been reported at the hospital in the four days between October 7 and 10.
According to hospital records, in January, 152 children died, in February 122, March 159, April 123, May 139, June 137, July 128 and August 325.
Acute Encephalitis Syndrome (AES) and Japanese Encephalitis (JE) have been creating havoc in eastern UP for years.
The most severely affected districts are Gorakhpur, Maharajganj, Kushinagar, Basti, Siddharthanagar, Sant Kabir Nagar, Deoria and Mau.
As per the data on the website of the Directorate of National Vector-Borne Disease Control Programme (NVBDCP), in 2010, UP reported 3,540 cases of AES, which claimed 494 lives. JE saw 325 cases being reported in that year, and 59 lives were lost.
Similarly in 2011, 579 deaths in 3,492 cases of AES were reported, while JE claimed 27 lives out of 224 cases.
In 2012, 3,484 cases of AES were reported and 557 patients died, while 139 cases of JE and 23 deaths were also reported.
The AES death toll breached the 600 mark for the first time in 2013 when 609 out of 3,096 cases reported, resulted in deaths. JE deaths too crossed the 40-figure-mark in the same year with 47 deaths reported in 281 cases.
In 2014, out of the 3,329 AES cases reported while for JE, it was 34 deaths out of 191 cases.
In 2015, as many as 479 lives were lost due to AES out of 2,894 cases reported. JE claimed 42 lives from the 351 reported cases, according to the official data.
In 2016, 3,919 cases of AES were reported in which 621 lives were lost. The death toll due to JE stood at an all-time high of 73 out of 410 cases reported.
Read also: 30 children die in Gorakhpur BRD hospital in last 48 hours