6 months of training and AYUSH doctor can practice allopathy in Karnataka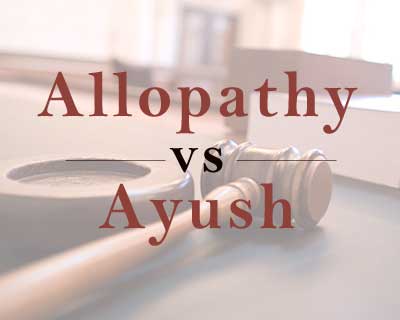 New government order in Karnataka states that AYUSH doctors appointed in rural PHCs can prescribe allopathic medicines " during emergencies"
Karnataka: AYUSH doctors working in the primary health centres with the state government may soon be allowed to practice allopathy in the state provided they meet certain conditions
A recent report in HINDU states that the state government has recently passed a government order stating that that practitioners of AYUSH (Ayurveda, Yoga, Unani, Siddha, and Homeopathy) appointed in Primary Health Centres (PHCs) in rural areas of Karnataka can practice allopathy "during emergencies".
The move comes after an Interdepartmental committee set up by the state health department and headed by the State drug controller to study the feasibility of AYUSH doctors practicing allopathy gave a positive report on the move. It is reported that this positive note came despite objections raised by the Karnataka Medical Council and Indian Medical Association who opposed the move.
With this, AYUSH doctors working with the state government will be able to prescribe allopathic medicines in emergencies provided they meet the following conditions:


AYUSH practitioners in PHCs should undergo a six-month crash course under senior doctors in district hospitals.


Get Themselves certified by the registration authority under the Karnataka Private Medical Establishment Act-The jurisdictional Deputy Commissioner-headed regulatory committees, set up under the Karnataka Private Medical Establishment Act, should certify trained AYUSH practitioners, the panel has recommended


Clarifying on the nature of the training course, N.A. Magadum, president of AYUSH Federation of India's State unit, who is also a member of the committee told the Hindu, " "The course will include three months each of theory and practicals. The idea is to prepare them to treat communicable and non-communicable diseases in rural areas,"
The move has met with strong opposition from the practitioners of Modern Medicine in the state, who have equated the policy with the promotion of quackery. Karnataka Medical Council has also written to the government seeking postponement of the said order. "Allowing integrated practise will result in increased number of medical negligence cases. It is unfortunate that our views have not been considered," a KMC member told the daily.
Government officials on the other hand upheld the decision calling it essential in the face of severe shortage of doctors in the rural areas. "We already have nearly 800 AYUSH practitioners recruited against the posts of General Duty Medical Officers," a top official said.
With the decision Karnataka in line with 13 other states including Maharashtra, Tamil Nadu, Gujarat, Punjab, Uttar Pradesh, Bihar, Assam, and Uttarakhand, where integrated practise is legal adds the daily.