70,000 Nurses across Country on Strike, Delhi Government invokes ESMA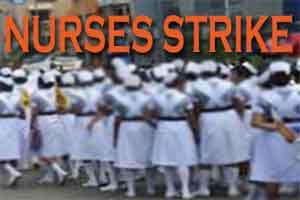 New Delhi: Healthcare services in the government hospitals across the country have come to a standstill with 70,000 nurses employed with the government going on strike . The nurses are collectively opposing the recommendations of the 7th Pay Commission demanding, immediate redressal of issues related to pay and allowances.
All India Govt. Nurses Federation's G.K.Khurana, told Hindu that the Federation has been struggling for over nine months seeking a hike in the entry level pay scale.
"Also we want all our allowances to be multiplied by general multiplying factor 1.5 which has been applied for other cadres except nurses. The government says that doctors' salary has been raised by 9 per cent but in actual sense according to 7th CPC report which has been notified their salary has been increased by 14.8 per cent. But we nurses are struggling since 5th CPC to get correct pay scale which we actually deserve. This is the pathetic conditions we nurses are living in,'' she explained.
"We are not happy with the response of the government and so we will go ahead with our strike. But, we will attend to emergency and critical cases," Spokesperson of All
India 
Government Nurses Federation Liladhar Ramchandani said.
With the nurses on strike, the situation has become worse for the capital where the government hospitals including those run by Centre, city government or civic bodies alone employ about 20,000 nurses. This comes at a time when all major hospitals in Delhi, swamped by patients suffering from vector-borne diseases. The authorities have tried to reach a common ground with their respective nurse associations, but in vain.
"We tried to convince them but they are adamant about their demands. The ministry has assured them but they are not yielding. Also, so many people are suffering from dengue and chikungunya in this season, and we also asked them to defer the strike but in vain," Ram Manohar Lohia Hospital's Medical Superintendent Dr A K Gadpayle said.
The hospital employs about 840 nurses of whom 236 are on contract. We have 300 resident doctors, so we will try to manage, he said, adding, "we are getting 15-30 dengue cases and 30-35 chikungunya cases daily here."
"The nurses had nine demands. We have agreed to seven and have even communicated this to them. The remaining two--pay scale revision and allowance revision--do not fall under us. These pertain to the Finance Ministry and are part of the Central Pay Commission's recommendations. The Health Minister has still, keeping the stress season in view, forwarded to the Finance Ministry even the remaining two demands for approval. The ball is now in the Finance Minister's court," Health Secretary CK Mishra told
Tribune
.
Ramchandani, also president of
Delhi 
Nurses Federation, said their demands include raising entry level pay of nurses and allowances.
Protesting Nurses Manhandled, detained
 A group of nurses protesting in the capital were allegedly manhandled by the police before being dragged into buses and detained.The nurses were shouting slogans at a popular protest site in the heart of Delhi when the policemen allegedly pushed them and bundled them into buses. Journalists alleged that they were also jostled in the commotion reports NDTV.
Delhi Government Invokes ESMA
Delhi government, desperate to keep on its health services in the time of severe crisis, is reported to have invoked Essential Services Maintenance Act (ESMA) which imply that the caregivers will be liable to be jailed for up to six months and/or fined if they continue with their protest. LG has signed the notification to this effect