7th Pay Commission: Govt ignores demands on NPA, doctors prepare for protest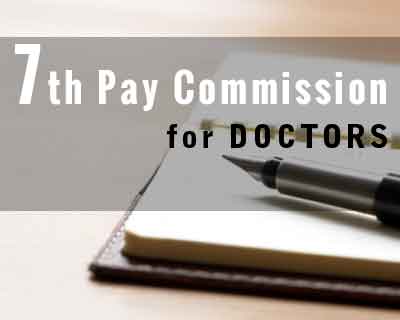 New Delhi: With the recommendations of 7th Pay Commission coming into force from July 1, 2017, The Union Cabinet chaired by the Prime Minister Shri Narendra Modi recently approved the recommendations of the 7
th
CPC on allowances with some modifications.
It is reported that while approving the recommendations of the 7
th
CPC on 29
th
June, 2016, the Cabinet had decided to set up the Committee on Allowances (CoA) in view of substantial changes in the existing provisions and a number of representations received. The modifications are based on suggestions made by the CoA in its Report submitted to Finance Minister on 27
th
April, 2017 and the Empowered Committee of Secretaries set up to screen the recommendations of 7
th
CPC.
What are the NEW Recommendations on Allowances?
Some of the recommendations on allowances that are relevant to the medical and allied medical practitioners include :-


HRA is currently paid @ 30% for X (population of 50 lakh & above), 20% for Y (5 to 50 lakh) and 10% for Z (below 5 lakh) category of cities. 7th CPC has recommended reduction in the existing rates to 24% for X, 16% for Y and 8% for Z category of cities. As the HRA at the reduced rates may not be sufficient for employees falling in lower pay bracket, it has been decided that HRA shall not be less than

₹

5400,

₹

3600 and

₹

1800 for X, Y and Z category of cities respectively. This floor rate has been calculated @ 30%, 20% and 10% of the minimum pay of

₹

18000.

Moreover, 7th CPC had also recommended that HRA rates will be revised upwards in two phases to 27%, 18% and 9% when DA crosses 50% and to 30%, 20% and 10% when DA crosses 100%. Keeping in view the current inflation trends, the Government has decided that these rates will be revised upwards when DA crosses 25% and 50% respectively. This will benefit all employees who do not reside in government accommodation and get HRA.


Existing rate of Nursing Allowance has been increased from ₹4800 per month to ₹7200per month.


Rate of Operation Theatre Allowance has been increased from ₹360 per month to ₹540 per month.


Rates of Hospital Patient Care Allowance / Patient Care Allowance have been increased from ₹2070 - ₹2100 per month to ₹4100 – ₹5300 per month. 7th CPC recommendations modified to the extent that it will be granted to Ministerial staff also


Government Silent of Non Practising Allowance
The 7th Pay Commission, had brought huge disappointment to the medical fraternity, after it had reduced the Non-Practising Allowance (NPA), an allowance given exclusively to doctors, from 25% to 20%. Moreover, it had delinked the NPA from the basic pay for further calculations such as HRA
Doctors had immediately objected to the recommendations, then running pillar to post to restore at the very least the status quo of the NPA. Numerous meetings were held with the between the doctors as well as various ministries including health as well as finance, with the government promising to look into this major demand of the medical fraternity.
Read more at Medical Dialogues:
Either increase NPA or allow private practice: Doctors to Ministry 
Read Also: 
Doctors threaten strike against 7th Pay commission
However, now that the recommendations on allowances are out, Medical practitioners are simply aghast as  their demands have been blatantly ignored. There is no mention of the NPA in the allowance recommendations recently given, implying that government has accepted the recommendation of the reduced and delinked NPA.
" We had followed proper channels, apprising both the health and the finance ministers, respectively  about our demands, especially on NPA. Despite this, government has completely ignored all our demands," said Dr Rajeev Sood, Vice President, Delhi Medical Association.
Dr Pankaj Solanki President FORDA said, " We are clearly unsattisfied by the allowance committee report since it has neglected us. We are not going to sit down and watch them play with our NPA which is actually a fundamental right of each and every doctor. Even the courts in the past have said this, making it amply clear that NPA is not a separate allowance but a part of the basic pay of doctors."
What Next?
Doctors are quite shocked with the allowance recommendations, as they were hoping that thier demands are going to be considered by the government. Leading associations have already begun meeting to decide their future course of action.
" To show our protest, all government doctors are going to wear black bands to work on the 1st July, that is, Doctors Day. We are also calling a meeting of government doctors organisation soon to decide our future course of action," added Dr Sood, who is also the President of Joint Action Council of Service Doctor Organisation, JACSDO, an umbrella body of 11 organised and unorganised associations including  Central Health Services (CHS), Indian Railway Medical Services (IRMS), Indian Ordinance Health Services (IOHS), MCD, NDMC, Delhi administration and ESIC.
Read Also :
7th Pay Commission: Delegation of Senior Doctors submit a Charter of Demands to Nadda
New Delhi: Doctors meet Finance Minister on 7th Pay Commission