85 new AYUSH hospitals approved in last 5 years: Minister informs parliament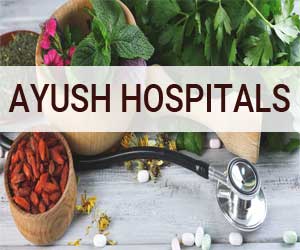 New Delhi: 85 new AYUSH Hospitals approved in the last five years,  the AYUSH minister Shri Shripad Yesso Naik recently informed the parliament
The details provided by the minister showed that 31 hospitals were given a nod in the year 2017-18,25 hospitals in 2016-17 and 14 in 2014-15.
The matter got highlighted when the MP Shri Rajmani Patel questioned the Minister of AYUSH about the number of hospitals proposed to be established in various parts of the country providing for Ayurveda, Yoga, Naturopathy, Unani, Siddha and Homoeopathy treatment and whether the land has been acquired for the purpose. The MP further questioned that if so, then what is the total amount proposed to be spent on each of the hospitals, if the Government proposes to establish more than one hospital in a State.
Shri Shripad Yesso Naik, the Minister of State under the Ministry of AYUSH, in his written reply stated that public health is a State subject, establishment of AYUSH Hospitals comes under the purview of respective State/UT Governments. However, under Centrally Sponsored Scheme of National AYUSH Mission (NAM), there is a provision of financial assistance to States/UTs for setting up of up to 50-bedded integrated AYUSH hospitals with Rs 900.00 lakhs for construction, furniture, fixtures, equipment, etc., Rs. 30.00 Lakhs per annum for medicines, diet and other consumables and Rs. 120.00 Lakhs per annum for Salaries. Under NAM, grantin-aid is provided to State/UT Governments as per their proposed State Annual Action Plans (SAAPs).
As per the annexure issued by the ministry of AYUSH, a total of 85 new units have been approved with the highest of 31 hospitals in the year 207-18, with 25 in 2016-17, 14 in 2015-16, 13 in 2018-19 and the least of 2 in 2014-15.
The reply further showed that maximum hospitals have been set up in the state of Uttar Pradesh
Mentioned below is the Status of up to 50 bedded integrated AYUSH Hospital approved under National AYUSH Mission (NAM) during 2014-15, 2015-16, 2016-17, 2017-18 & 2018-19:




Sl. No

.


 

State/UT


 

Location


No. of unit approved




2014-15


2015-16


2016-17


2017-18


2018-19




1


Andhra Pradesh


Kakinada


1


-


-


-


-




Visakhapatnam.


-


-


1


-






2


Assam


Goalpara


-


-


1


-


-




Majuli


-


-


1


-


-




3


Bihar


Patna


-


1


-


-






4


Chandigarh


Chandigarh


-


1


-


-






5


Dadra & Nagar

Haveli


Silvasa


-


1


-


-






6


Goa


North Goa.


-


1


-


-






South Goa


-


1


-


-






7


Gujarat


Surendernagar


-


-


1


-


-




Bardoli


-


-


-


1


-




8


Haryana


Hisar


-


1


-


-






9


Himachal Pradesh


Kullu


-


-


1


-






Mandi


-


-


-


1






 

 

10


 

Jammu & Kashmir


Kishtwar


-


-


-


1






Kupwara


-


-


-


1






Bilawar


-


-


-


-


1




Kulgam


-


-


-


-


1




11


Karnataka


Gadag


-


-


1


-






Mangalore


-


-


1


-






12


Kerala


Trissur


-


-


-


1






13


Lakshadweep


Kavaratti


-


-


1


-






 

14


 

Maharashtra


Nandurbar


-


-


-


1






Sindhudurg


-


-


-


1






Pune


-


-


-


1






Ahmadnagar


-


-


-


1






 

 

 

15


 

 

 

Manipur


Moreh,         Chandel

District


-


-


1


-


-




Churancandpur


-


-


1


-


-




Kwakeithel Konjeng

Leikai


-


-


1


-


-




Keirao AC, Imphal East District


 

-


 

-


 

-


 

1


 

-








 

 

16


 

 

Madhya Pradesh


Bhopal


-


-


1


-






Indore


-


-


-


1






Narsinghpur


-


-


-


1






Chitrakoot


-


-


-


1






Mandleshwar


-


-


-


-


1




 

17


 

Meghalaya


Sohra (Cherapunje), CHC, East Khasi Hills


 

-


 

-


 

1


 

-






 

18


 

Nagaland


Noklak,      Tuensang

District


-


1


-


-


-




Razha, Chedema


-


-


-


1


-




Sapangya (Chungtia)


-


-


-


1






19


Odisha


Dhenkanal


-


-


1


-






Behrampur


-


-


-


1






20


Puducherry


Villanur


-


1


-


-


-




Yanam


-


-


-


-


1




 

21


 

Punjab


Moga


-


-


1


-






Dyalpur          Sodhia

Zirakpur


-


-


1


-






 

 

22


 

 

Rajasthan


Bhilwara


-


-


1


-






Ajmer


-


-


1


-






Churu


-


-


1


-






Bikaner


-


-


1


-






Jaipur


-


-


-


-


1




23


Sikkim


Kyongsa,           West

Sikkim


-


1


-


-


-




 

24


 

Tamil Nadu


Theni


-


-


1


-






Thiruvannamalai


-


-


1


-






Pudukkottai


-


-


-


-


1




 

 

 

25


 

 

 

Telangana


Anantgiri, Vikarabad,

Rangareddy Distt.


 

-


 

-


 

1


 

-






Bhupalpalli (V&M), Jayashankar

Bhupalpalli District.


 

-


 

-


 

-


 

1






Siddipet            Head

Quarters


-


-


-


1






 

 

26


 

 

Tripura


Paradise

Chowmuhani, Agartala


 

-


 

-


 

-


 

1


 

-




Belonia


-


-


-


1


-








 

 

 

 

 

 

 

 

 

 

 

 

27


 

 

 

 

 

 

Uttar Pradesh


Kushi Nagar


-


1


-


-


-




Bilhour, Kanpur


-


1


-


-


-




West                 Katli,

Lucknow


-


1


-


-


-




Badrasi, Varanasi


-


1


-


-


-




Nawab              Ganj,

Bareilly


-


1


-


-


-




Basti


-


-


1


-






Sirathu Koushambi


-


-


-


1






Sonbhadra


-


-


-


1






Orai Jalaun


-


-


-


1






Sant kabir Nagar,


-


-


-


1






Saharanpur


-


-


-


1






Deoria


-


-


-


1






Lalitpur


-


-


-


1






Amethi


-


-


-


1






Kanpur Dehat


-


-


-


1






Firozpur,           Balia District


-


-


-


1






Maharajganj


-


-


-


-


1




Rai Bareilly


-


-


-


-


1




Agara


-


-


-


-


1




Baghpat


-


-


-


-


1




Fatehpur


-


-


-


-


1




 

28


 

Uttrakhand


Haldwani


-


-


-


1






Jakhnidhar, Tehri


-


-


-


-


1




Tanakpur,

Champawat


-


-


-


-


1




 

29


 

West Bengal


Topsikhata, District

Alipurduar.


1


-


-


-






Paschim         District Midnapur


-


-


1


-


-




Total


2


14


25


31


13