9 Member Doctor team to recommend Pricing at Private Hospitals: Delhi Govt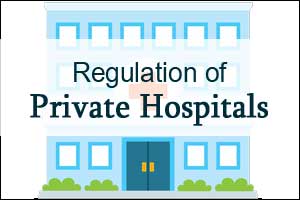 New Delhi: The Delhi government set up a nine-member expert committee to recommend it the norms to be followed by private hospitals in the city, including on capping the margin of profit from the sale of medicines, in the medical investigation and for behavioural protocols.
Making the announcement at a press conference here, Health Minister Satyendar Jain said the committee will be headed by Director-General Of Health Services Kirti Bhushan including;


Dr KK Aggarwal, IMA president


Dr RK Gupta, former president of DMA


Dr Arun Gupta, DMC president


Dr Puneeta Mahajan, regional director, Health Services, (North)


Dr Ashok Kumar, additional director (DGEHS)


Dr Monalisa Borah, Delhi Voluntary Hospital Forum president


Dr Chander Prakash of the DGHS.


Dr RN Das of the DGHS.


The minister, in response to a question on the Centres Clinical Establishments (Registration and Regulation) Act, said the city government is working on its own Delhi health act, which should come into being soon.
On what prompted the setting up of the panel, Jain said his department had received several complaints related to alleged overcharging, refusal or delay in providing immediate medical care to victims of crime or road accidents, or hospitals compelling patients to buy drugs from the in-house pharmacy, rude behaviour by healthcare workers and delay in initiating medico-legal cases.
The panel has been requested to submit its recommendations by December 31.
"They will not be mere recommendations. The Delhi government will use them to come up with protocols related to medical services," Jain said.
Asked if the step was prompted by the recent alleged incidents of overcharging and medical negligence by two upscale private hospitals, he said: "No. We have been proactively working on it for months."
Registered private hospitals and nursing homes will come under its purview.
"We have been saying that open loot and criminal negligence by any private hospital will not be tolerated. And, the panel will, among other recommendations, also suggest the capping limit on the margin of profit availed from the sale of medicine. So, it will tell what percentage of profit margin can they go for," the health minister said.
They will also recommend measures for norms to be followed in the medical investigation and suggest behavioural protocols, he said.
The government, later in a statement, said the panel will suggest mechanism so that all private hospitals and nursing homes should, as far as possible, only prescribe drugs mentioned in the National List of Essential Medicines (NELM).
Price to be charged by them for medicines and consumables and not compelling patients to buy drugs from in-house pharmacy and price charged for various diagnostic investigations would also be deliberated by the panel.
They will also offer suggestions that will seek to "develop a mechanism for eradicating cuts and commissions in medical practice", the statement said.