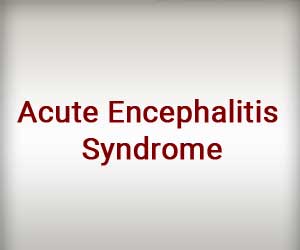 Muzaffarpur: Two more children died in Bihar's Muzaffarpur district on Sunday due to acute encephalitis syndrome (AES) even as officials asserted that afflictions and casualties had begun to dwindle with the onset of rains.
Both the deaths took place at the S K Medical College and Hospital, where 431 children, including two in the past 12 hours, have been admitted for AES treatment since June 1, according to figures released by the district administration. The total number of AES patients who have died at the SKMCH is 110.
"There is a perceptible decline in the number of children who are being admitted with brain fever as also the number of deaths," hospital superintendent Sunil Kumar Shahi said. "It has always been observed that AES strikes at the peak of summer and the outbreak halts with the onset of rains."
Two fresh cases have been registered, one on Saturday and another on Sunday, Shahi said.
................................ Advertisement ................................
Besides the SKMCH, the Kejriwal hospital in the Muzaffarpur town has so far registered 162 AES cases and 20 casualties.
................................ Advertisement ................................
The Health Department put the total number of AES casualties across 20 districts at 152. These include the 130 deaths reported at the two Muzaffarpur-based hospitals, which have been admitting AES patients from nearly half a dozen districts in its proximity.
It also suspended Bhimsen Kumar, a senior resident doctor posted at the Patna Medical College Hospital, for allegedly failing to comply with the direction to report for emergency duty at the SKMCH.
Meanwhile, a huge chunk of plaster fell off the ceiling at the SKMCH in the afternoon and came crashing down on the ground, barely a few feet away from a patients' ward.
Nobody was injured in the incident, which took place a day after human skeletal remains were found strewn near a garbage dump close to the hospital building.
Experts attribute the deaths to hypoglycemia which typically affects malnourished children below the age of 15 years and said to be triggered by consumption of unripe lychees — a fruit grown in abundance in Bihar. The fruit contains a high concentration of a toxin that causes blood-sugar levels to fall sharply.
Read Also:AES Outbreak Update from Bihar: Death toll reaches 108; Dr Harsh Vardhan to constitute experts group to monitor cases
What is Acute Encephalitis Syndrome (AES)?
AES is a viral disease which causes mild flu-like symptoms such as high fever, convulsions and headache. It is a serious neurological illness that causes inflammation of the brain.
Symptoms of AES, colloquially known as "chamki bukhar, may include headache, fever, confusion, stiff neck and vomiting. The disease most commonly affects children and young adults and can lead to mortality.
According to the National Health Portal (NHP), viruses are the main causative agents in AES cases, although other sources such as bacteria, fungus, parasites, chemicals, toxins and non-infectious agents have also been blamed.
The Japanese encephalitis virus (JEV) is a major cause of AES in India (ranging from 5-35 per cent), according to the NHP.
Viruses, including herpes, influenza A, West Nile and dengue, are the some of the other causes of sporadic outbreaks of AES in India, the portal said.
However, the causes and manner of the disorder in a large number of AES cases still remain unidentified.
A study published in 2017 in The Lancet journal claimed that eating litchi fruit may be associated with acute toxic encephalopathy — the mysterious brain disease that has caused hundreds of unexplained deaths among children in recent years in Bihar.
According to the researchers, lack of food combined with toxins hypoglycin A and methylenecyclopropylglycine (MCPG) present in litchi seeds may be the cause of the illness.
Author Details
Medical Dialogues Bureau consists of a team of passionate medical/scientific writers, led by doctors and healthcare researchers.  Our team efforts to bring you updated and timely news about the important happenings of the medical and healthcare sector. Our editorial team can be reached at editorial@medicaldialogues.in. Check out more about our bureau/team here
................................ Advertisement ................................
0 comment(s) on Acute Encephalitis Syndrome Outbreak in Bihar: Death Toll Reaches 152