AIIMS Bhopal to become fully functional from June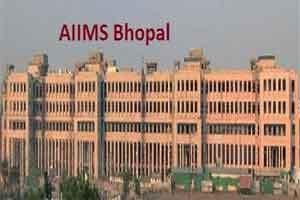 Bhopal:  The All India Institute of Medical Sciences (AIIMS), Bhopal, which was set up in 2012, would start providing round-the-clock services from June.
AIIMS director Dr Nitin A Nagarkar and Bhopal MP Alok Sanjar told reporters here yesterday that 96 percent of the construction work on the campus is complete.
Further, 136 consultants -- there are 305 sanctioned posts -- have been appointed, they said. Remaining posts would be filled up by June.
 From June, the institute, with 960 beds, will start operating 24 hours.
Dr Nagarkar said the AIIMS, Bhopal is fast becoming the first choice of medical students.
The institute started with 48 students in 2012 and the number went up to 100 (the full capacity) in 2017, he said.
Evening Out-Patient Department (OPD) would be started from June.
Six operation theatres are functioning at present, and all 24 operation theatres would become functional from June.
Sanjar said the AIIMS administration is also keen on starting trauma and emergency services in the next few months.