AIIMS New Delhi releases 186 vacancies for Junior Resident Post in 24 Specialities; APPLY NOW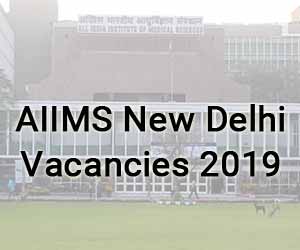 New Delhi: The All India Institute of Medical Sciences (AIIMS), New Delhi has released 186 vacancies for the Junior Resident (Non-Academic) posts on Contractual Basis. The selection will be based on Interview.
AIIMS, New Delhi is an Autonomous Body established under an Act of Parliament. As a part of its activities, the Institute is running a large teaching hospital for training of undergraduate and postgraduate students in the various fields of Medical Sciences.
AIIMS Delhi Vacancy Details:
Total No. of Vacancies- 186
The vacancies are in the Department of- Blood Bank, Blood Bank (Trauma Centre), Burns & Plastic Surgery, Cardiac Radiology, Cardiology, Community Medicine, Cardio-Thoracic (CTVS), Dermatology, EHS, Emergency Medicine, Emergency Medicine (Trauma Centre), Lab Medicine, Nephrology, Neurology, Neuro Surgery (Trauma Centre), Neuroradiology, Orthopaedics ( Trauma Centre), Paediatrics Casualty, Psychiatry, Radiology (Trauma Centre), Radiotherapy, Rheumatology, and General Surgery (Trauma Centre).
Last Date of Application: 10th December 2019.
For more details about Age, and Pay Allowance and much more, click on the given link:
https://medicaljob.in/jobs.php?post_type=&job_tags=AIIMS+Delhi+Jobs&location=&job_sector=all
Eligibility Criteria:
1) The candidates should have passed MBBS/BDS (including completion of Internship) or equivalent degree recognized by MCI/DCI.
2) Only those candidates who have passed MBBS/BDS (including Internship) not earlier than three (3) years before the start date of Junior Residency (Non-Academic) i.e. 31.12.2019 will be considered. It implies that those who have completed MBBS/BDS or equivalent course (including completion of residency) between 01.01.2017 to 31.12.2019 only will be considered.
3) DMC/DDC Registration is mandatory before joining if selected.
4) Those who had joined Junior Residency (Non-Academic) at the AIIMS and whose services were terminated on account of unauthorized absence or any other disciplinary/ground, will be ineligible to be considered for these JR (NA) post even if they otherwise qualify.
5) For all eligible candidates, a maximum of three terms* are allowed. AIIMS graduates will be considered to be allotted post on a preferential basis. Candidates who have already done 3 terms* of Junior Residency (Non-Academic) either at AIIMS or outside will not be considered. Experience in Army Services, Central Health Services, Private Nursing Homes and Private Practice will be taken as equivalent to Junior Residency (Non-Academic).
Note: Term of JR (Non-Acad.) is 6 months, if anyone joins and leaves at any time it will be counted as one term irrespective of the duration of work. For each term, the candidate(s) required to submit his/her application separately.
Read Also: APPLY NOW: ESIC Hospital Rajasthan releases 25 Vacancies for Senior Resident, Specialist posts