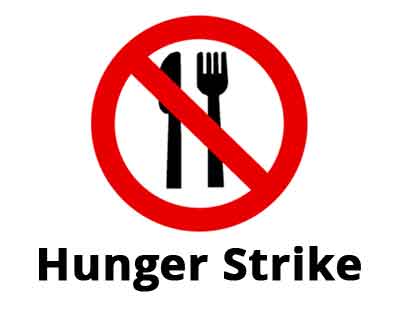 New Delhi: Around 4000 nursing staffs of the country' premier institute, All India Institute of Medical Sciences (AIIMS) initiated 2-day relay hunger strike to protest against the appalling working conditions, irregularity in pay revision and delay in EHS (Dept. of Family Medicine) facilities for them.
The strike was launched on October 14, 2019 (Monday) where the AIIMS nursing staffs drew the hospital administration's attention towards the atrocities faced by them.
Protesting staffs have alleged inaction by the administration pertinent to the facilities ought to be provided to staffs. As per various media accounts, the nurses have specifically pointed out that there are no separate treatment facilities for the staffs and they are given long due dates for surgeries. Moreover, they are not given any reimbursement amount if they go for treatment elsewhere, as cashless facilities cannot be availed at other hospitals. Further, the hospital administration deducts Rs 650 per month for EHS- related services whereas the services are pathetic. The quarters allotted to the staffs after 15 years of service are also in dilapidated condition.
................................ Advertisement ................................
#ISupportAiimsNursesUnion#WeSupportSatyagraha#Relay_Hunger_Strike@JPNadda@MoHFW_INDIA@FinMinIndia@ArvindKejriwal pic.twitter.com/QkjYLk6gvd

................................ Advertisement ................................

— AIIMS NURSES UNION (@nsgunionaiims) October 14, 2019
Prior to the hunger strike, the staffs protested by wearing black bands for three days during their work. Taking their demands further, the nursing staffs have now decided to march on foot to the Union Health Minister, Dr Harsh Vardhan's residence on October 16.
Also Read: Doctors, Medicos at AIIMS, RML, PGI Chandigarh to join protest against NMC Bill
It has also been alleged that half of the newly recruited nursing staff leave the job over unpleasant working and living conditions.
The deteriorating condition of AIIMS was also highlighted in the Eighty Seventh Report of the standing committee of Parliament on Health and Family Welfare which recorded that the institute was reeling under staff deficit and needed urgent resolution regarding pending vacancies.
Also Read: AIIMS Nursing Recruitment STAYED by Delhi High Court
AIIMS Nurses Union secretary, Fameer CK while talking to Newsclick stated that the staffs are protesting for a long time for three specific demands- Cashless facility, Lodging facility and lastly, to improve the provisions of 6th and 7th pay commission.
The union has been demanding these facilities for a long time now, however, no action was taken by the hospital administration. The protesters have recently threatened to boycott all services in case their demands are unheard, reports NDTV India.
Author Details
Farhat Nasim joined Medical Dialogue an Editor for the Business Section in 2017. She Covers all the updates in the Pharmaceutical field, Policy, Insurance, Business Healthcare, Medical News, Health News, Pharma News, Healthcare and Investment. She is a graduate of St.Xavier's College Ranchi. She can be contacted at editorial@medicaldialogues.in Contact no. 011-43720751
To know about our editorial team click here
................................ Advertisement ................................
0 comment(s) on AIIMS nurses on relay hunger strike