AIIMS Opens counter for VIP Patients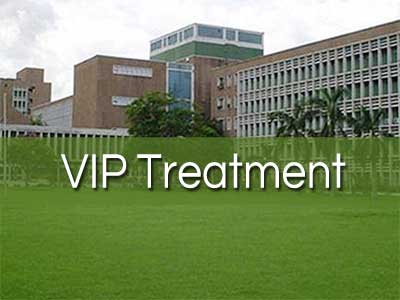 New Delhi: The "VIPs" and the patients referred by the Officer on Special Duty (OSD) to Union Health Minister J P Nadda and "VIP references" from Members of Parliament can now escape long queues at AIIMS, with the hospital administration setting up a separate counter for such people.
The definition of VIPs, however, will be determined by the AIIMS Director, Deputy Director Administration (DDA), Medical Superintendent and Senior Financial Advisor besides the officer on special duty (OSD) to the Union Health Minister.
The move has drawn ire of the Faculty Association of AIIMS (FAIIMS) which saw it as the administration's "brazen attempt" to promote VIP culture in the premier institute.j
The practice was prevalent even before and was being dealt by the Media and Protocol division, but not in such an open manner, claimed a senior doctor at AIIMS.
"However, it came to the notice of the administration that there was an abuse of power as there were allegations of money being exchanged for expediting the registration of general patients in the division," the doctor alleged.
The new counter has been set up at the Rajkumari Amritkaur OPD building.
"This new counter will cater exclusively to the patients recommended by the OSD to President AIIMS and Health Minister and VIP references from members of Parliament after being duly forwarded by the authority in AIIMS they have been marked to," read the notice issued recently.
The move has drawn wide criticism among the faculty members.
"The administration is encouraging VIP culture in government institutes like AIIMS where patients have to wait for hours to consult a doctor. This is simply not acceptable.
"What about the poor patients who come from far-flung areas as the OPD registration counter closes by 11 AM after which they are not even allowed in the OPD premises to see a doctor," said Dr Nand Kumar, General Secretary of FAIIMS.
At present, AIIMS witnesses an overwhelming footfall of around 11,000 patients across all OPDs in a day.