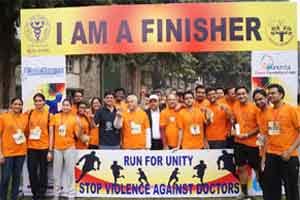 "RUN FOR UNITY- Stop Violence against doctors"
This special run was organized by Resident doctor association, All India Institute of Medical Sciences to spread public awareness on the issue of violence which medical doctors have to face in critical care services when survival of patient goes beyond the doctor`s control. Medical Dialogues was proud to be media partner of the event. Other partners to the event included SBI Buddy, Healthy Ageing India,  Manavta Cancer Foundation of India, Gandhi Smriti and Darshan Samiti,
The event saw participation from more than 1000 doctors not only from AIIMS but also from medical colleges from various other states. The chief guest at the event was Director AIIMS Prof M C Misra. Speaking on the issue of growing instances of violence against doctors he emphasized that patient needs to understand that death is inevitable in certain circumstances.  At the same time he requested the resident doctors to improve the communication skills so as to communicate the true condition of the patient to their relatives. Dr Tarun Arora, President RDA, AIIMS emphasized the need to rebuild the lost patient doctor relationship and trust.
Following these talks the 5 km run was flagged off by Director AIIMS. It started from AIIMS quadrangle and led to Sri Aurobindo Marg, followed by Balbir Saxena marg and August Kranti Marg. It ended at AIIMS hostel campus.
Here are some Pictures of the Event..
0 comment(s) on AIIMS RDA, Medical Dialogues organise Marathon to protest on violence against doctors