All government hospitals to get Air conditioners: Delhi Health Minister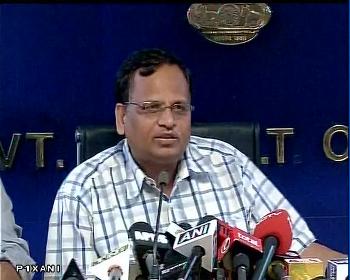 NEW DELHI: NEW DELHI:  As part of a major infrastructure revamp, all Delhi government hospitals would be made air-conditioned and there would be no special VIP wards, Health Minister Satyendar Jain said on Friday.

Hitting out at BJP and Congress, he said the two parties were "creating hurdles for us" as they themselves "couldn't achieve much" when they were in power.

Mr Jain was speaking at the inauguration of the capital's 106th mohalla clinic at Gandhi Nagar in east Delhi, a flagship project of the AAP government.

"We had thought of building 1,000 clinics by 2016. We have made 106 so far, but we will try to meet our target as the earliest. We have 150 polyclincs as well.
"Now, we are in the process of doubling the capacity of our hospitals from 10,000 beds to 20,000. We would be making all our hospitals air-conditioned. There would be no VIP or private ward for any minister (or dignitaries), all would be same," he said.

There are 36 hospitals running under Delhi government, including Lok Nayak Jaiprakash Hospital, the biggest among them, G B Pant Hospital, GTB Hospital, Dr B R Ambedkar Hospital and Lal Bahadur Shastri Hospital.

Hitting out at rival parties, Mr Jain said, "Earlier, they never went beyond 'bijli-sadak-pani' and corruption became part of running hospitals and schools. Now, we want to change that, so, they are trying to create hurdles for us."

"Congress and BJP both are creating hurdles. But, BJP is doing so more because they cannot digest the fact that they were routed in the Delhi polls," he said.

He also hit out at the BJP-ruled MCD, saying, "Their job is to clean the garbage and our pockets."