ALL Leave Applications must be signed in Hindi Only: AIIMS Rishikesh tells its teaching doctors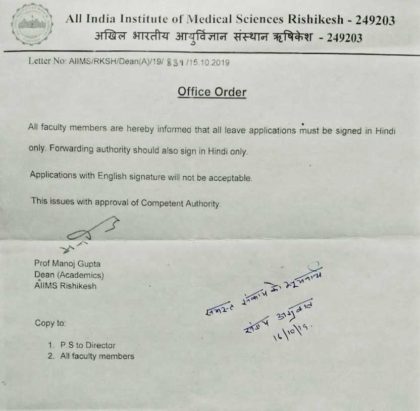 Dehradun: The Rishikesh branch of All India Institute of Medical Sciences (AIIMS) has once again drawn controversy over its bizarre circular. This time, the teaching faculty at the institute has been directed by the institute's authorities to sign leave applications in Hindi. The office order that calls for hindi signatures went on to add that applications with english signature will not be accepted.
According to the academic authorities, this has been done in a bid to promote the Hindi language. However, most of the faculty differs from the move and has shown resentment over the recently circular.
Issued by the Dean Academics, Professor Dr Manoj Gupta, the copy was forwarded to the AIIMS Rishikesh Director and all the faculty members. The circular mandates:
"All the faculty members are hereby informed that all leave applications must be signed in Hindi. Forwarding authority should also sign in Hindi only.
Applications with English signature will not be accepted."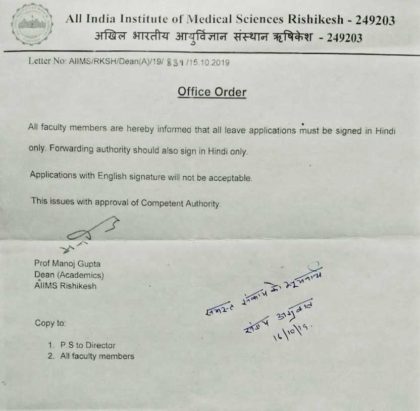 Talking to mediapersons here, Dr Gupta said that the idea behind the order was to promote Hindi language.
"We are simply trying to promote Hindi language as per the guidelines of the Central government. The leave application and other forms are in English and the applicant can fill those in any language, but only signature in Hindi is mandatory," he stated.
While the order has come as shock to many of the faculty members, some have supported it calling it mandatory for government employees.
Pointing out that non-Hindi speaking faculty at the institute are not acquainted with basic Hindi language terms, a doctor told the daily, "From professors belonging to South India to Maharashtra, AIIMS faculty consists of people from all regions of the country who are not well-versed in Hindi. Such orders simply force people to accept that there is no diversity in India."
The doctors are wondering how signing in Hindi moreover on leave applications can promote Hindi amidst the institute faculty.
Read Also: NO Strike, Dharna, Demonstration against institution: AIIMS Rishikesh demands UNDERTAKING, Resident doctors agitated
"What promotion they would do simply by making people sign in Hindi. Uplift and preservation of a language will never happen this way," said a junior resident doctor at the AIIMS.
Meanwhile, AIIMS-Rishikesh PRO Harish Thapliyal stated that it is mandatory for central government employees to have primary knowledge of Hindi Language.
He told TOI, "As per the government of India norms, all the Central government employees, who are not well-versed in Hindi have to pass a qualifying exam in the language within a year after their deputation...So, all the faculty members must know Hindi and this is mandatory because they are central government employees. Nothing wrong in it."
Read Also: Rumour Mill: Fake order states AIIMS Rishikesh to be given away on contract; perpetrators to face legal action