Allopathic Medicines have to be given by an Allopathic Doctor- NCDRC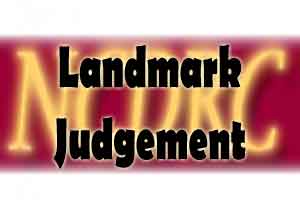 "Allopathic Medicines have to be given by an Allopathic Doctor"
The National Commission came down heavily on quacks and practitioners transgressing in other branches of medicines, in the case of DEEPESH KUMAR KUSHWAHA & 2 ORS.V/s.Dr. GOPAL NARAYAN AWTE & ors.
Facts in Nutshell...
1. The Complainant, the Son of Labourers fell sick and he was taken to the Opponent Doctor (having only a certificate of Ayurveda Doctor and not a BAMS degree) , where the practitioner diagnosed him as a Malaria patient and he treated him with some allopathic medicines and injections for a period of 15 days.
2. But as the condition of the patient worsened, he was taken to higher center in a serious condition. It was informed that the patient had Japanese Encephalitis for which treatment would continue life-long.
According to the complainant, due to wrong diagnosis and wrong treatment of malaria, the mental condition of the patient deteriorated and he has become mentally challenged. Thus, the case for damages of Rs,19,90,000/- was filed.., but was only awarded Rs.20,000/- by the State Commission. He then filed a revision petition with the National Commission.
3. The Doctor denied all the charges and contended that the pathology center is at fault and should suffer.
Held :
1. The National Commission, after going through the entire record held the Doctor had no proper Degree and could not have prescribed allopathic Medicines.
2. It was also brought on record that as per M.P. Medical Council & Madhya Pradesh Ayurvigyan Council, the Opponent Doctor was not authorised to prescribe Allopathic medicines.
3. The commission referring to one of its own previous judgements re-iterated
 The person who is authorized to practice under Indian Medicine Central Council Act, 1970 is not at all entitled and authorized to prescribe medicines under the Indian Medical Council Act, 1956. We are of considered view that the doctor having studied one particular system of medicine, cannot possibly, claim complete knowledge about the drugs of the other system of medicine The transgression into other branches of medicine would tantamount to quackery.
4. With regards to the current case, the hon'ble court observed
Whenever an Allopathic medicine is to be given, it must be sanctioned, verified and seconded by the Allopathic Doctor. The Allopathic Doctor will always take care and will call for all the medical tests.The mere signs of malaria are not enough.  The main disease of the patient could not be discovered by this quack.
5. It was also observed that the practitioner unnecessary wasted time in treating the patient, instead of referring him to proper Doctor. Thus, he was held liable to pay damages to the tune of Rs.3 Lakhs.
. So, lets learn good from the Bad...
Regards
Adv.
Rohit Erande
Pune.
You can read the full judgement by clicking on the following link
http://cms.nic.in/ncdrcusersWeb/GetJudgement.do?method=GetJudgement&caseidin=0/0/RP/2514/2012&dtofhearing=2016-03-04