Andhra Pradesh to host telemedical conference in 2018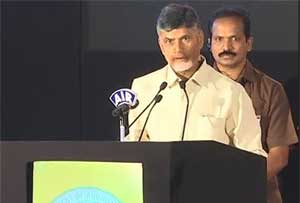 Amaravati: Chief Minister Chandrababu Naidu recently met a delegation of medical professionals led by Dr Murthy Remilla, organising Chairman of TeleMedicon 2018 and Senior Executive, ISRO, and decided to host a telemedical conference at Amaravati in November 2018.
The conference has been approved by the Telemedicine Society of India (TSI) and jointly supported by the AP Chapter of TSI and the state government. The conference will be organised by Ramesh hospitals and other specialty hospitals, medical and engineering colleges.
The programme was initiated by ISRO in 2001, to promote satellite-based connectivity to rural and remote areas, so that access to tertiary and specialty hospitals can be easier.
The Chief Minister said, "AP Fiber Grid is an additional advantage provided by Andhra Pradesh, which can encourage more medical institutions to bring telemedicine to the state".
Ministries of Health, IT and Education will be supporting TeleMedicon 2018, both financially as well as with participation
Chief Minister Naidu will be the Chief Patron for the conference as well as the Chief Guest for the inaugural ceremony.