Pectoral Nerve Blocks provide pain relief after Breast Augmentation Surgery: study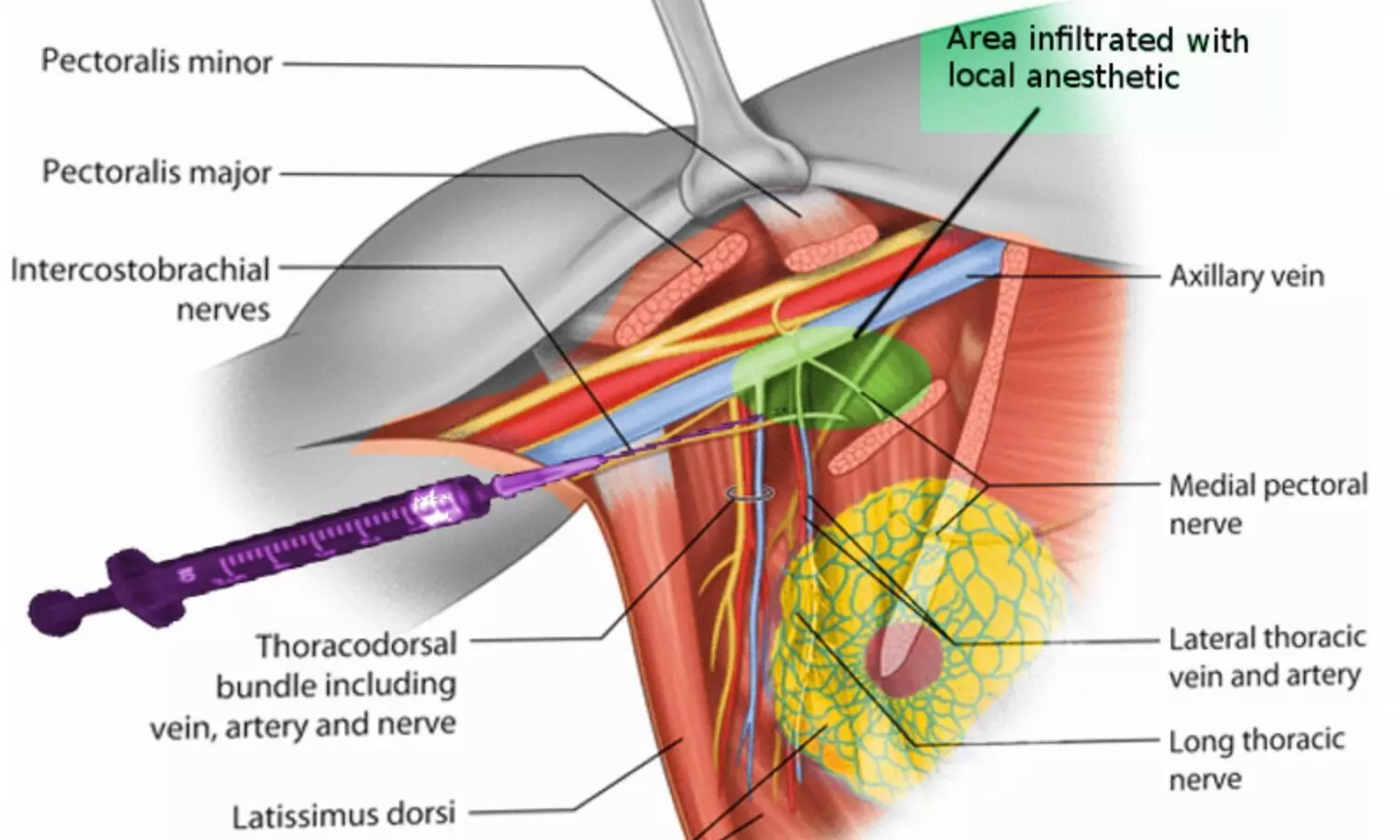 Pectoral nerve blocks along with other multimodal analgesia impart effective perioperative pain relief following a cosmetic breast surgery, suggests a study published in the Anaesthesiology journal.

The Pectoral nerve blocks is a novel regional anesthetic that can provide analgesia for chest wall surgery, potentially protecting the patient from more invasive procedures such as paravertebral blockade. They have been advised for pain relief during and after breast cancer surgery, however, there is no concrete evidence for their use in the case of aesthetic breast surgery.
A study was conducted by Aarab Y et. al to investigate the primary hypothesis that administering pre-incisional pectoral nerve block gave better analgesia as compared to systemic multimodal analgesic regimen alone after breast augmentation surgery. Also, the study included a second hypothesis that rescue opioid consumption would reduce with a long-lasting effect for both outcomes during the following days.

The researchers selected a total of 73 adult female patients undergoing cosmetic breast enhancement surgery under general anesthesia. They were randomly divided into two groups and allocated to receive either a pectoral nerve block versus no block.
Both groups received standard care with protocolized multimodal analgesia alone including systematic acetaminophen and NSAIDs (nonsteroidal anti-inflammatory drugs).
The primary outcome measure was the maximal numerical rating scale in the first 6 hours after extubation. While the secondary outcomes included intraoperative remifentanil consumption and from extubation today 5: maximal numerical rating scale, postoperative cumulative opioid consumption and postoperative opioid side effects, and patient satisfaction recorded on day 5.
The findings of the study are as follows:

Ø The pectoral nerve block group showed lowered maximal numerical rating scaling in the first six hours as compared to the control group 3.9 ± 2.5 vs. 5.2 ± 2.2; difference: –1.2 [95% CI, –2.3 to –0.1]; P = 0.036).
Ø Also, the pectoral nerve block group had a lower maximal numerical rating scale between days 1 and 5(2.2 ± 1.9 vs. 3.2 ± 1.7; P = 0.032).
Ø Lastly, the total amount of overall opioids consumption was lower for the pectoral nerve block group from hour 6 to day 1 and from days 1 to 5.
Thus, the researchers concluded that Pectoral nerve block in addition to multimodal analgesia provides significant perioperative analgesia after cosmetic breast surgery and is also linked with reduced opioid consumption during the first 5 postoperative days.
Reference
A study titled, "Pectoral Nerve Blocks for Breast Augmentation Surgery: A Randomized, Double-blind, Dual-centered Controlled Trial" by Aarab Y published in the Anaesthesiology journal.
https://doi.org/10.1097/ALN.000000000000385
Source : Anaesthesiology journal.