AP: Doctors oppose privatization of medical institute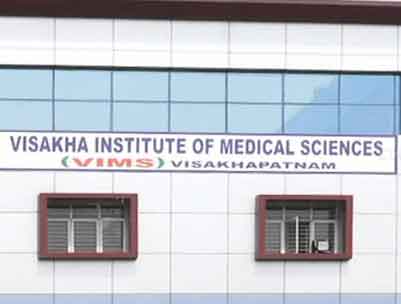 Vishakhapatnam: The state government's decision to privatize Visakha Institute of Medical Sciences (VIMS) without considering public opinion, has government doctors up in arms against the move. They feel privatization of the institute would lead to the purpose of subsidized VIMS health services being lost.
After much delay, the foundation stone of this facility was laid in 20o7, and the out patient department(OPD), inaugurated on 11th April, 2016. Further the 100-bed in-patient service and emergency operation theater complex came into operation on 11th September, 2016.
Built on a 100-acre land along National Highway-16 at a cost of Rs 85 crore excluding Rs 30 crore spent on equipment, VIMS has already completed 100 surgeries and is catering to nearly 300 out patients per day reports TOI.
The health facility was raised on this location to basically render service to patients living on the outskirts and surrounding districts. It was also meant to cater to accident cases, which otherwise, were taken all the way to King George Hospital.
The doctors in this facility are on deputation and no further investments have been made on this health facility by the government.
A senior doctor on deputation at VIMS said, "The government is not interesting in keeping and maintaining VIMS but is all set to hand over the different specialties to private concerns. Since the VIMS administrator or officer on special duty (OSD) was trying to run the institute by generating funds through NTR Vaidya Seva and had contributed towards growth and development of VIMS including commencing the operation theaters and in-patient service, the government has planned to remove him and privatize the institute. The OSD has already been made the vice-principal of Andhra Medical College (AMC) so as to slowly shift him from VIMS."
Sources associated with VIMS reveal, that the Health Secretary is supportive of the Chief Minister's privatization plan and the government is pushing the privatization effort. If privatized, the government need not spend Rs 100 crore on its upkeep every year and would end up making a sum of money from specialties  given under the private wing.
"Sadly, the government can spend Rs 1,000-Rs 1,800 crore on various activities including the 'puruskarams,' however, when it comes to maintaining VIMS at a cost of Rs 100 crore per year, the government is not interested in allocating additional budget or manpower. VIMS need drivers to run ambulances and technicians for the blood banks. In the absence of any additional budget, VIMS is generating its own funds through NTR Vaidya Seva scheme," a government hospital doctor, who has worked at VIMS told TOI.
It is reported that ever since the medical institute's inception in 2016, no Human Resources (HR) Policy has been formulated for VIMS; neither has an Act for operations and structure enacted in the Assembly.
When asked to comment on the privatization issue, VIMS OSD and  Head Plastic Surgery,KGH, PV Sudhakar said "As per instructions from the government, tenders have been floated to identify the consultants who can come forward to prepare the relevant documents and specialty-wise request for proposals (RoP). December 10 is the date of opening tenders to identify the consultants. Once the consultants are finalized, 12-15 specialty-wise tenders would be invited."
The Chief Minister in his inaugural speech at the institute in April, this year, had said , "
VIMS
will be developed on the lines of All India Institute of Medical Sciences (AIIMS). The super-specialty hospital will be useful for the people of north coastal AP and neighboring states."
Corrigendum: Medical Dialogues team earlier had misreported VIMS as a medical college. The team stands corrected that this is not a medical college, but a hospital.