Apollo Cradle launches Paediatric ICU; Super-Specialists will be available 24/7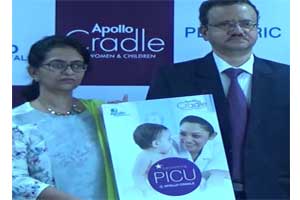 Hyderabad
:  Apollo Cradle, one of the country's leading hospital network for Women and Children, has recently announced the opening of Pediatric Intensive Care Unit (PICU), providing high level of intensive care to critically ill children with advanced technologies and 24/7 back up of super specialists.
The National Family Health Survey results released recently shows how far the states in India are lagging behind in achieving the infant mortality rate target set by the Centre of 28 deaths per 1,000 live births, by 2019.
The doctors claim that the total under-five mortality rate in Telangana is at 32 and to combat this, the PICU was launched and will be expanding it to 5 more in due course, said Mr Neeraj Garg, CEO, Apollo Health and Lifestyle Ltd on the occasion.
During the launching ceremony, Dr C Suresh Kumar, Head, Department of Pediatrics and Neonatology, Apollo Cradle said, "We launched the Pediatric Intensive Care Unit to ease infants and children with critical diseases. Our team offers round-the-clock care by super specialists to ensure that the patients have the best possible care available to them."
Read Also : eNICU: Apollo Cradle launches network of Advanced Technology Neonatal ICU