Apollo Hospitals Delhi to focus on reducing neonatal surgical mortality rate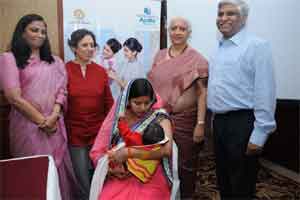 New Delhi: Apollo Hospitals Delhi organized a press conference in India Habitat Centre to address the critical issue of neonatal mortality in India. The team of neonatal intensivists, surgeons and gynaecologists attended the conference along with new-born patients who have been treated at Apollo Hospitals Delhi for complex surgeries.

The neonatal period (0-27 days) is the most vulnerable period for a newborn and over the years million babies across the world have died during this period due to medical anomaly & complexities. India has the highest number of neonatal deaths in the world. Over the years, there has been dramatic and accelerating progress in reducing neonatal mortality.

Throwing light on the subject, Dr Sujit K Chowdhary, Senior Consultant – Paediatric Urology, Indraprastha Apollo Hospitals Delhi commented, "Medical expertise and clinical excellence has increased the neonatal survival rate. With more than 850 newborn babies operated in the last 10 years, Apollo Hospitals Delhi achieved an outstanding success rate of 95% against the national average of 65%; emerging as the national leader for newborn surgeries. Three consecutive babies born with complex medical condition as right side diaphragmatic hernia and liver in the chest have been treated successfully and discharged from the Apollo neonatal intensive care in the last week. This is an event which any neonatal intensive care in the world, cannot claim to have ever seen."

A team of senior consultants, neonatal specialists including Dr Vidya Gupta, Dr Saroja Balan, Dr Sushma Kaul who were also present at the conference added, "The time period close to delivery is very critical and any failures in the healthcare system during this short time frame can lead to death of new born. Preterm births cause about 50 per cent of neonatal mortality and need timely medical intervention."

Apollo Hospitals has positioned itself as leader in providing quality healthcare of the new born with surgical condition and continues to lead the way in complex new born surgeries.