Are healers becoming predators? New Publication delves into corruption in medical fraternity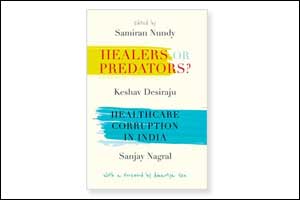 New Delhi: 
Are healers becoming predators? How does one differentiate between a genuine medical mistake and an act of corruption that defrauds patients and their families?
These were some of the questions that were discussed by a panel of experts here, including eminent doctors to thresh out the issue of corruption in the medical fraternity in the country and the way forward.
The occasion was the Delhi launch of the book 'Healers or Predators?' which has essays by contributors from both within and outside the medical fraternity, with a forward by Nobel laureate Amartya Sen.
The book explores the many facets of corruption -- from exorbitant billing by the corporate hospitals to the non-merit-based selection in medical colleges to the questionable motives playing strong in the are of organ transplant, according to the Oxford Union Press, the publisher of the voluminous book.
Dr Samiran Nundy, emeritus consultant at the Sir Ganga Ram Hospital here, and one of the co-editors of the book, said, "We need to inculcate ethics into our system. At present, the scenario does not seem very good."
UK-born doctor David Berger, and former non-executive director of British Medical Journal Publishing Group, who currently serves at Broome Hospital in a remote part of Western Australia, said, India has its own challenges, which is different from the ones faced in other countries.
"The right approach would be strengthening of the rural medical infrastructure and system," he said.
On the occasion, former Union law minister Salman Khurshid made a reference to the Gorakhpur children tragedy in which nearly 60 children had died due to lack of oxygen at a state-run hospital there last year.
"There is a failure of the rural health system in Uttar Pradesh as the case suggests," he alleged.
Dr Vinod Paul, member, NITI Aayog, said, there are issues in the country but there is a way forward.
"And, we are working on bringing about a change. Current private hospitals are working on low volume and high return model, a disruption has to be created in the system to have high volume and moderate return at least," he said.
The other two editors of the book are -- Keshav Desiraju, former Union health secretary and currently chairman, Population Foundation of India; and Sanjay Nagral, a consultant surgeon, department of surgical gastroenterology, at Jaslok Hospital, Mumbai.