Arogya Karnataka Welcome, but how will it function? Hospitals show doubts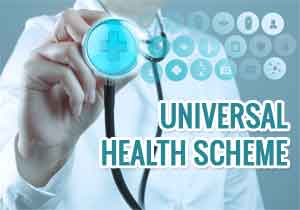 Bengaluru :
The recently launched and much talked universal health coverage (UHC) scheme " Arogya Karnataka" seems to be facing a muddle in its way just before coming into force. While the entire state is welcoming the state government's effort of providing Rs 1.5 lakh coverage to patients in the state, the hospital have come out questioning the modality of the scheme
The main goal of this scheme is to provide affordable healthcare service in government as well as private hospitals. This scheme aims at benefitting around 1.43 crore families across the state.As per the scheme, the government will bear the treatment bills costing upto Rs 1.5 lakh and the additional Rs 50,000 per family annually whereas the rest would be paid by the patient.
"Through the scheme, all below-poverty-line (BPL) households will get free treatment at government hospitals while for above-poverty-line (APL) households, the state will bear about 30 percent of the treatment cost," Siddaramaiah told IANS after unveiling the scheme in the city,
TOI reports that the private hospitals have now raised specific questions regarding the treatment bills beyond Rs 1.5 lakh.  The medical practitioners and hospital owners questioned, how the cashless facility is going to work if the bill exceeds Rs 1.5 lakh.
"Patients' families will be left in the lurch as they can't be beneficiaries of Arogya Karnataka if they are availing any other scheme. If the bill exceeds Rs 1.5 lakh, the patient will end up paying from his/her pocket. How is it a cashless healthcare facility," a doctor from the Private Hospital and Nursing Homes' Association (PHANA) told
TOI
.
According to the recent report in the daily ,Dr Nagendra Swamy SC, chief coordinator, Federation of Healthcare providers (FHP), expressed his concern by saying, " Getting a referral letter from government hospital authorities to shift the patient to an empanelled private hospital will be easier said than done and could lead to corruption,". He also added that the scheme will neither help patients nor hospitals.