The Future of the Pharmaceutical Industry - Biopharmaceuticals and Patient Centric Approach in Marketing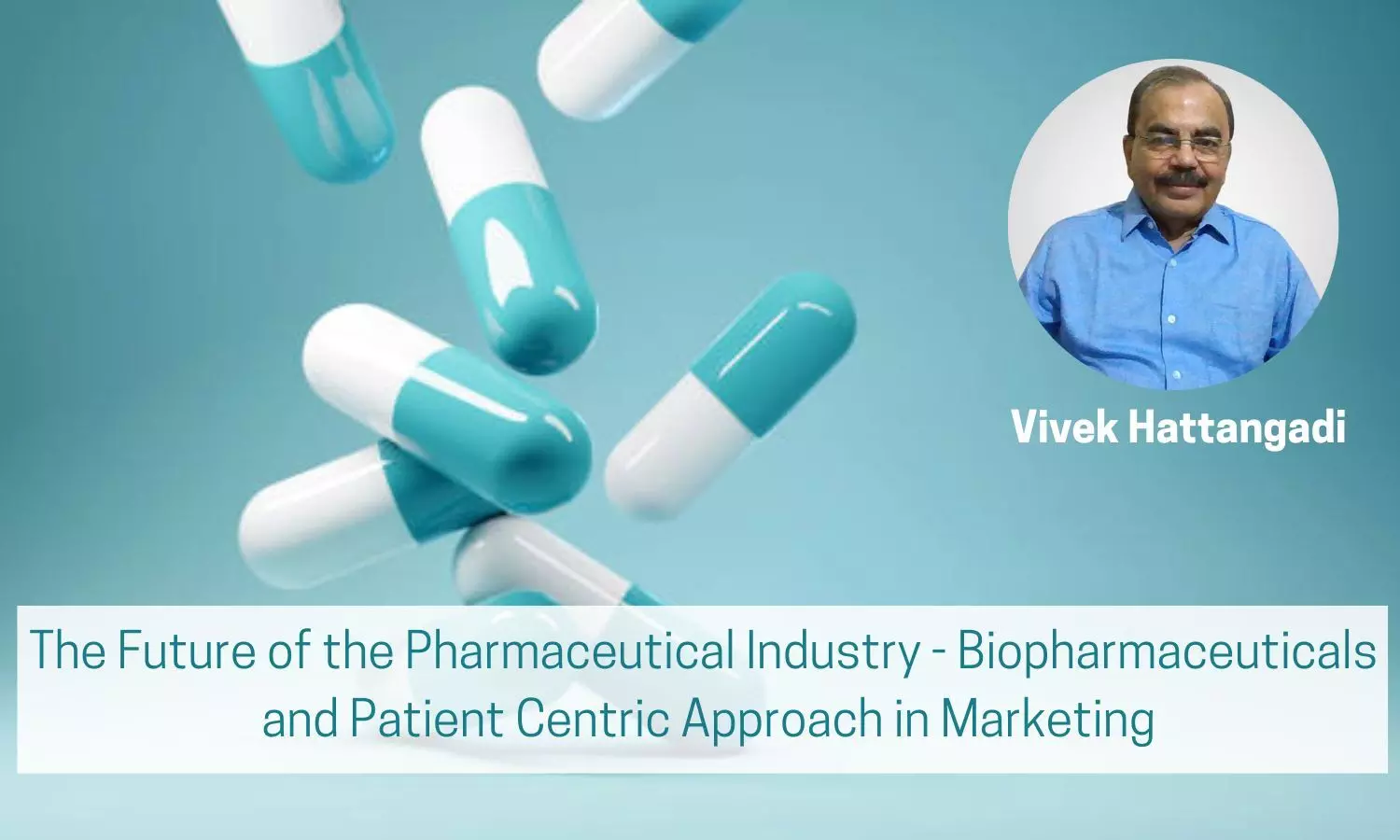 On 23rd August 2022, I was reading the thoughts of G. V. Prasad (Managing Director and Co-chairman DRL) in an interview with McKinsey. It is crystal-clear that the future of pharma is in biopharmaceuticals, biosimilars, novel biologics, and cell & gene therapies.
What can the pharma marketers in India and across the world learn from this interview?
Biopharmaceuticals market is increasing over the world, at a much faster speed than the market for all other drugs. I predict that biopharmaceuticals have a great potential for further dynamic growth because of the tremendous popularity and the requirement for these drugs.
The formulation of these complex biopharmaceutical macromolecules is not as straightforward as their small-molecule counterparts. The high patient doses required for biologic therapeutics, for example, present significant drug-delivery challenges.
Because of their nature, biopharmaceuticals are not easy to deliver via the oral route. These drugs are currently injected using intravenous infusion in the hospital, or INCREASINGLY IN THE HOMES OF PATIENTS.
A great many biologic products for parenteral administration are freeze-dried in vials to help maintain drug stability and increase shelf life. Development of liquid biologic preparations in prefilled syringes and auto injectors is on-going.
Prefilled syringes and auto injectors offer convenience – and importantly, at a place where a patient spends over 95% of his time – at home or in office. Insulin is one such example. More biological products are under development for inflammatory disease, auto-immune disease, psoriasis, multi-sclerosis, Crohn's disease, ulcerative colitis, and many more.
And that's the reason why for the past four years I have been harping on the patient-centered model of marketing for the pharmaceutical industry in India, Bangladesh and across the world.
One of the significant stakeholders in this new game is the "Caregiver-At-Home".
Significant yet neglected.
Self-administration of biopharmaceutical products has its own set of challenges. Both patients and the "Caregiver-At-Home" require training and education to ensure that these drug-delivery systems are administered accurately. Nevertheless, this is not the only problem.
Self-injection of biopharmaceutical products is not a pleasant, agreeable, or a pleasing thing to do. Hence adherence and compliance to such drugs is often a problem.
Only the other day, the Executive Vice-President of a large Indian biopharmaceutical company (which is one of the top biopharmaceutical producers in India) was telling me: "Our F & D team is facing a big challenge. We have to deliver larger volumes of biologic formulations, often beyond the capacity allowed by a syringe or an autoinjector".
And to enhance adherence to therapy, the "Caregiver-At-Home" becomes even more critical. It's crucial that Pharma India recognizes and supports their pivotal role in patient care.
Nursing assistants in Ahmedabad charge about a thousand rupees a day and maybe more in cities like Mumbai, Delhi or Bangalore. So just imagine the value of free care given by the caregivers-at-home! I don't think that ever can be evaluated. And they do this often at the risk of their own health and wellbeing, considering the mental and physical stress they undergo.
And these caregivers-at-home, more often not are taken for granted.
That's not only a problem for "Caregiver-At-Home", but for the patients under their care too. To successfully help those patients, Pharma India will have to make sure that caregivers-at-home get the support they need.
Pharma India should fast transform medical representatives to knowledge worker. They may have to closely work with the patients and "Caregiver-At-Home". Novo Nordisk initiated this successfully more than a quarter of a century back.
Pharma India should commit to fully respecting the patient community's independence and integrity, and work simple and transparent way with patients and the caregivers-at-home. Then the laws like the Physicians Payments Sunshine Act or the proposed UCPMP Act may not even be necessary.
Disclaimer: The views expressed in this article are of the author and not of the Medical Dialogues. The Editorial/Content team at Medical Dialogues has not contributed to the writing/editing/packaging of this article. Vivek Hattangadi has an experience of 47 years in the pharmaceutical industry. He has Headed two divisions of a top Indian transnational before venturing into independent learning and developmental area. Over 17 years as an independent pharmaceutical consultant in the pharmaceutical brand management and sales management. He has written several books for the pharma industry and the entire curriculum and study material for the MBA course in pharma management for Vidyasagar University (West Bengal).