Understanding the Scope of Biosimilars in India with Dr. Manish Adhia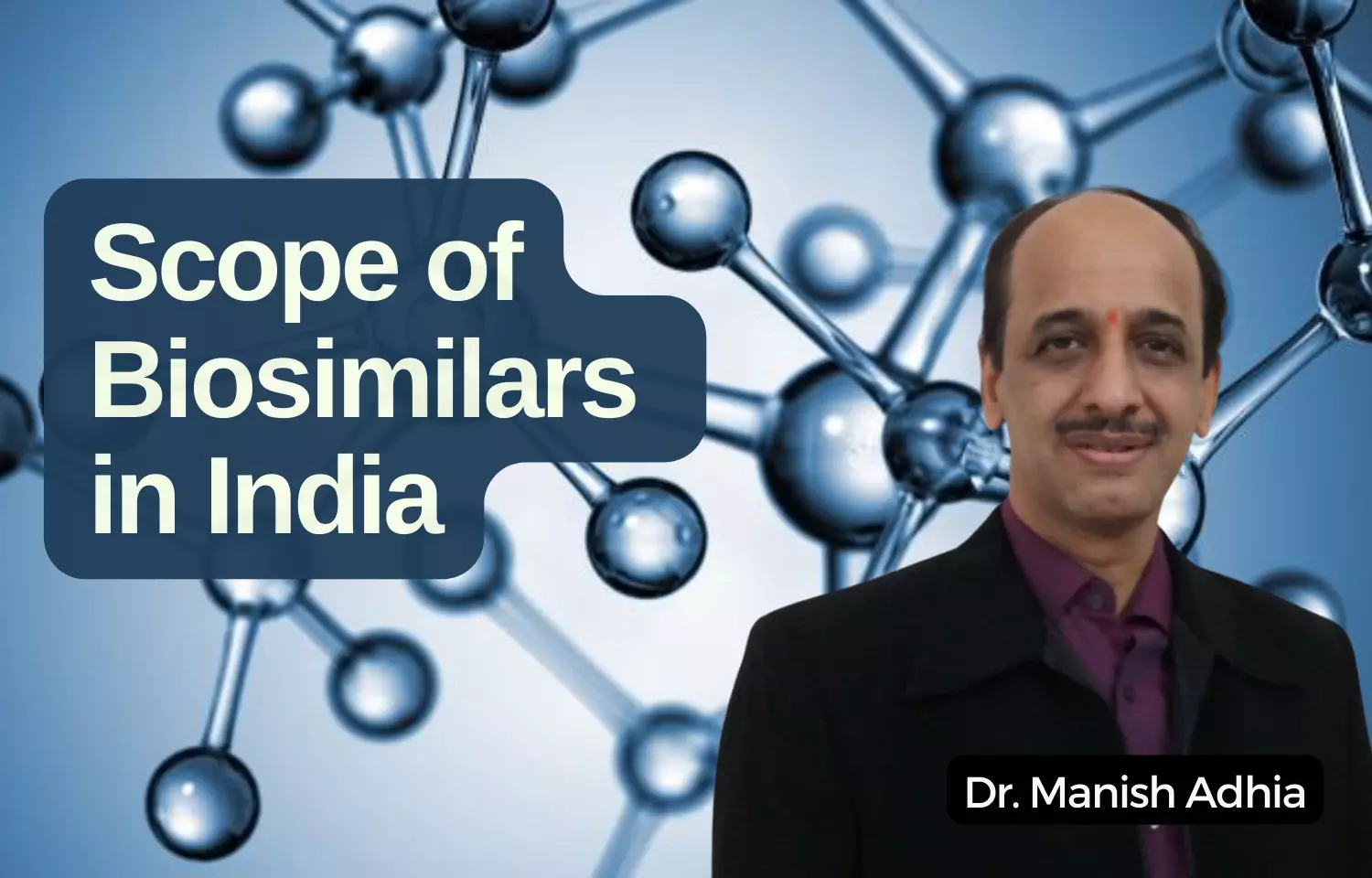 The pharmaceutical industry globally is seeing a major shift from small molecules (chemical entity drugs) to the more complex biologics and biosimilars (protein based large molecules.
In fact, biologics account for nearly 12 of the top selling 20 global brands. This is largely attributed to the significantly superior outcomes post treatment with biologics and biosimilars. There has been a significant change in trend of disease incidence – non communicable and chronic life style diseases like Diabetes, Auto immune disorders and cancers are today the major cause of morbidity and mortality. With a population of over 135 crore people and disease trends similar to that of developed economies, India represents a huge opportunity for biosimilars. With a majority of population not covered by any reimbursement plan India remains largely an Out-Of-Pocket (OOP) market wherein most patients have to fund their own treatment costs. In such a scenario the role of Biosimilars assumes immense significance.
The concept of biosimilars is based on their affordability vis-à-vis the innovator biologics and therefore price becomes a key factor in the Indian context. This potential is further augmented by significant acceptance of biologics and biosimilars not only by the treating physicians' but also by the patients as evident by the enhanced compliance for biologics and biosimilars
The first biosimilar was approved in India in the year 2000 by the Indian Drug Authorities. This number has since significantly increased to 98 biosimilars being approved till September 2019 (source: CDSCO). Approvals of biosimilars in regulated markets like Europe and USA has led to keen interest in the Indian pharma companies motivating many of them to invest in this lucrative and growing biosimilars market to improve their footprints in geographies beyond India. Indian companies like Biocon, Intas, Cadila and Reliance have been at the forefront of development and commercialization of biosimilars. These companies have developed in-house product development capabilities. More than 10 blockbuster biologics are set to lose their patents in the next couple of years. The current net revenues of these innovator biologic brands exceeds USD 60bn. This would provide a further boost to the huge potential for Biosimilars in the coming years.
The main factors leading to the high commercial potential and the need for development of indigenous biosimilars in India can be enumerated as under:
1. Large patient pool and high incidence of diseases like diabetes, rheumatoid arthritis and cancers
2. Robust regulatory environment – in 2016 the Indian government framed comprehensive guidelines for development and approval of biosimilars in India under the aegis of CDSCO. The revised regulatory pathways has made the process of application and approvals of biosimilars much more easier to comply with safety, efficacy and quality of the product.
3. Technology – India today has development and manufacturing infrastructure which meets global standards. The Indian government has encouraged and incentivized investments in this area.
4. Access – With rapid improvements in transportation, cold chain logistics and better patient access in remote areas the access to newer treatments like biologics and biosimilars in India is expected to rise exponentially.
5. Government initiatives like the National Biopharma Mission and the Atal Incubation programs has been a significant growth driver of this sector
Globally the biosimilars market is forecasted to reach US $240 billion by 2030. The biosimilars market in India is estimated to grow at a compounded annual growth rate (CAGR) of 22% to become USD 12bn by 2025. This would represent almost 20% of the total pharmaceutical market in India.
Thus the future for biosimilars in India promises to be quite bright and is expected to improve disease outcomes leading to substantial improvements in quality of life and productivity
Disclaimer: The views expressed in this article are of the author and not of the Medical Dialogues. The Editorial/Content team at Medical Dialogues has not contributed to the writing/editing/packaging of this article.