White Paper On Good Marketing Practices In The Pharma Industry - Vivek Hattangadi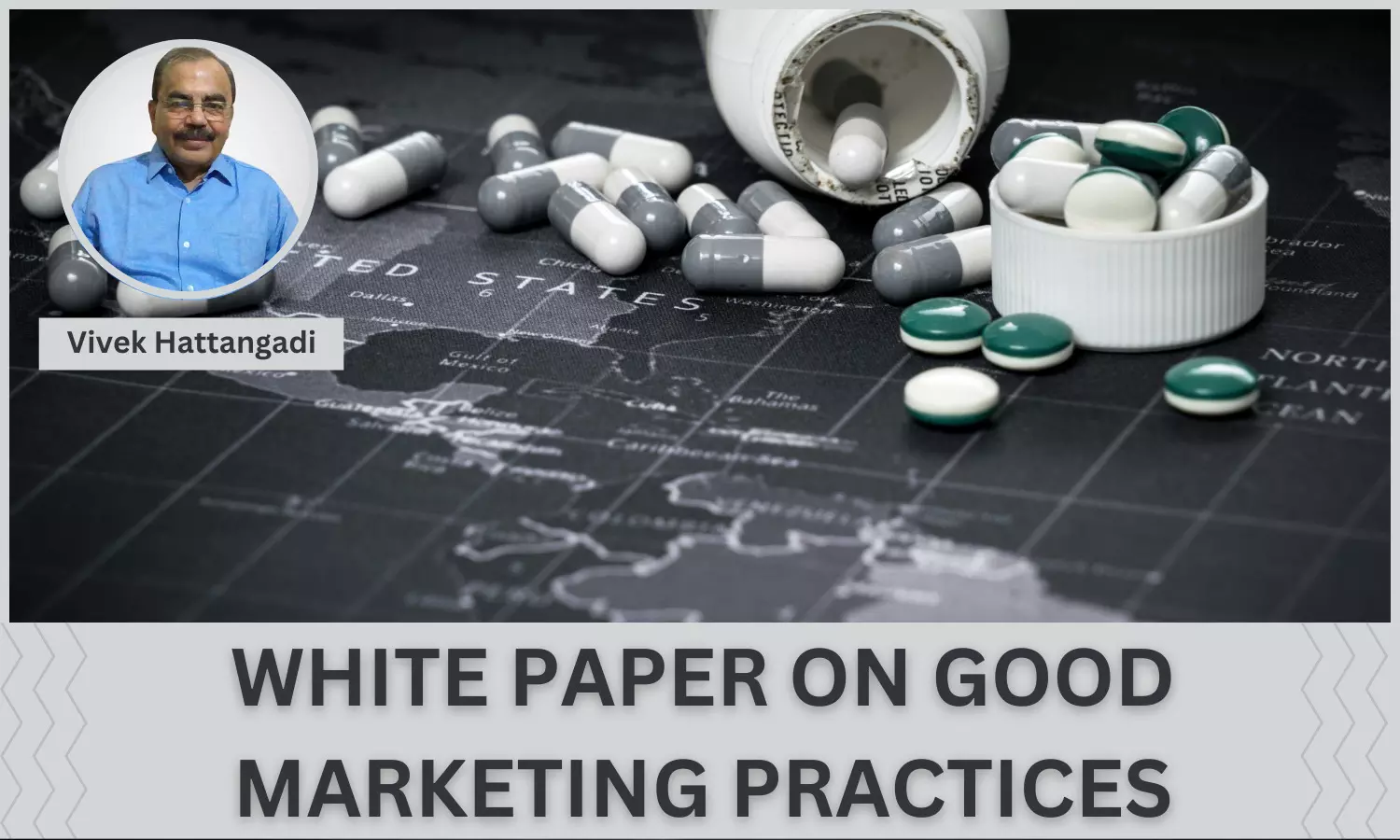 Preamble
Why this White Paper?
A white paper (sometimes called a whitepaper) is an information document issued by an organization to highlight the solution to a problem and the functionality of a solution, good, or service. A white paper also provides persuasive and factual evidence of an ideology to overcome a problem facing society.
This White Paper on Good Marketing Practices (GMaP) in the pharma industry is to highlight the problems which patients are facing. In today's context, it is the outcome of the treatment of a medical condition.
Introduction
The pharmaceutical industry is one of the most regulated industries in the world. It is a critical component of modern healthcare, with a mission to develop, manufacture and market innovative products that improve the health and quality of life of patients.
Marketing in the pharmaceutical industry is a critical aspect of promoting brands and getting prescriptions for products that are designed to improve human health. The ultimate objective of brand promotion should be the patient's health outcome.
How do you define patients' health outcomes? "It is the end result of a treatment which a patient desires when he goes to a doctor or a hospital for illness. This includes functional improvement, the capability to live a normal and productive life thereafter."
Effective marketing practices are essential to the success of brands of pharma companies, and they play a crucial role in ensuring that patients receive the appropriate treatment they need.
But what do 'effective marketing practices' mean to society in general and patients in particular?
Why is it that pharma marketing practices come under scrutiny so often?
What necessitates the Government of India to evolve this voluntary Uniform Code of Pharmaceutical Marketing Practices (UCPMP) into an Act?
It is important that pharmaceutical companies follow Good Marketing Practices (GMaP) to ensure they are acting ethically, transparently, and in the best interests of patients. The patient should be at the centre of all pharma activities, be it marketing, new product development through design thinking, or new molecule research and development activities.
Given the sensitive nature of the industry, it is crucial that GMaP are followed to ensure the ethical and lawful promotion of drugs. And more importantly, to earn the trust and confidence of patients and their caregivers at home. The healthcare industry should have foresight on what powerful social media can do to enhance or damage the reputation of a doctor or a pharmaceutical company.
In this white paper, we will explore the key principles of GMaP in the pharmaceutical industry.
Key Principles of GMaP in the Pharmaceutical Industry
1. Compliance with Regulatory Guidelines
Ethical and compliant behaviour is the cornerstone of GMaP in the pharmaceutical industry. Every pharma company must adhere to strict ethical standards to ensure that they always act with integrity and transparency. Companies must establish a code of conduct that outlines ethical standards and practices for all employees, including marketing and sales personnel. The code of conduct should be regularly reviewed and updated to ensure it is in line with current regulations and industry standards.
Pharmaceutical companies must ensure compliance with regulatory guidelines for drug promotion set by government agencies like DCI and DoP.
All promotional materials and communications must be truthful, accurate, and not misleading.
2. Evidence-Based Promotions
All marketing communications and promotional activities must be based on scientific evidence. Brand managers must not exaggerate the efficacy or safety of the product.
In the coming times when a patient-centred approach will be the new model of pharma marketing, evidence-based medicine will have a big role in improving patient outcomes. Evidence that therapy is both effective and safe is the primary requirement. But that is just the start. Clinicians need evidence to support optimal treatment decision-making. Payers need evidence to support patient access. And patients need evidence to understand how therapy might meet their needs.
Increasing volumes and types of available data raise the potential to generate this evidence, but if it is to be realized, pharma may need to change their approach to evidence generation, working far more strategically and collaboratively than they do at present.
Clinical trial data must be presented in a balanced manner, and any potential side effects or limitations must also be disclosed.
Pharmaceutical companies must target the right audience for their products.
Companies should focus on educating healthcare professionals about the product's attributes and benefits and how it can best meet the needs of patients.
Marketing efforts should be directed towards healthcare professionals who are likely to prescribe the product and to patients who will benefit from it the most.
This includes ensuring that the marketing materials are appropriate for the target audience, such as using language that is easily understood by healthcare professionals, the patients, or the caregivers at home – to whomsoever it is targeted.
The promotional materials through social media platforms must not be aimed at the general public or unqualified individuals. Ultra care should be taken when marketing or discussing products on social media.
4. Disclosure of Financial Relationships
Any financial relationships between pharmaceutical companies and healthcare professionals must be disclosed, including payments, gifts, and other incentives. These relationships must not influence the medical decision-making or prescribing practices of the medical practitioners.
An Act should be introduced in the Lok Sabha which requires pharmaceutical companies, manufacturers of medical devices, and biological and medical supplies to track all the payments they make to physicians, associations of doctors, and teaching hospitals and submit a report of them two times every year – in April and October.
Such an Act if enacted will promote a transparent and accountable healthcare system in India by increasing the transparency of financial relationships between doctors, doctors associations, teaching hospitals, and manufacturers of drugs and medical devices. The transactions between these firms and providers can be recorded and made publicly accessible on the Department of Pharmaceutical (DoP) website.
5. Adherence to Industry Codes of Conduct
Pharmaceutical companies must adhere to industry codes of conduct. Bodies like the Indian Pharmaceutical Alliance (IPA), the Organization of Pharmaceutical Producers of India (OPPI) and the Indian Drug and Pharmaceutical Association (IDMA) should come together and draw a common code for the pharmaceutical industry in India.
These codes can provide guidelines for ethical interactions between pharmaceutical companies and healthcare professionals, including limitations on gifts, travel and stay, entertainment and more.
Pharma companies can also develop their own codes which can exceed and be superior that what the law or the trade associations stipulate.
6. Continuing Medical Education (CME)
A CME is an educational event for doctors, which is based upon identified needs, has a purpose or an objective and is evaluated to ensure the needs are met. These are educational activities which serve to maintain, develop, or increase the knowledge, competence, professional performance and relationships that a doctor uses to serve patients.
Pharmaceutical companies must support CME programs for healthcare professionals. The environment for CME's should be conducive to deep learning. 5-star hotels, foreign jaunts and cruises need to be shunned. There is no real learning in such an environment. An academic venue should be considered.
Importantly, these programs must be based on scientific evidence and must not promote a specific product or brand.
GMaP in the pharmaceutical industry also means improving patients' treatment outcomes. Companies must ensure that their marketing efforts are designed to keep the patient at the centre of all activities and meet the basic needs of patients to have a near-normal life where functionality is impeded minimally and continue to remain useful members of society.
Some of these include initiating patient support groups where 'patients like me' (patients with the same kind of medical conditions) can meet.
A frequent frustration of people with chronic conditions and their families is the lack of publicly available answers to seemingly simple and rote questions about these chronic conditions. To overcome this, forums like patient support groups where patients, doctors, and organizations could work together to share disease information easily and quickly.
A support group provides an opportunity for people to share personal experiences and feelings, coping strategies, or first-hand information about diseases or treatments.
For many people, a patient support group can fill the gap between medical treatment and the need for emotional support. A person's relationship with doctor or other medical personnel may not provide adequate emotional support, and a person's family and friends may not understand the impact of a disease or treatment. A support group among people with similar medical conditions where they share their pain points, their experiences and how they overcame their issues, may function as a bridge between medical and emotional needs.
Lest we forget, patient-centeredness in pharma marketing is a natural outgrowth of Human-to-Human Marketing so profoundly enunciated by Philip Kotler and his co-authors in the book: "H2H Marketing: The Genesis of Human-To-Human Marketing"
Conclusion
GMaP requires ongoing evaluation and improvement. Companies must continuously monitor their marketing practices to ensure that they are in line with current regulations and industry standards. This includes regularly reviewing marketing materials, conducting audits of marketing practices, and providing ongoing training for marketing and sales personnel.
GMaP in the pharmaceutical industry is crucial to promote ethical and lawful drug promotion. Companies must adhere to ethical and compliant behaviour, be transparent in their marketing practices, target the right audience, be patient-centred, comply with regulations, and continuously improve their marketing practices.
Compliance with regulatory guidelines, evidence-based promotions, targeted marketing, disclosure of financial relationships, adherence to industry codes of conduct, and support for CME are key principles that pharmaceutical companies must follow to ensure ethical marketing practices. Initiating patient support groups and sustaining them is a very important element of GMaP.
By adhering to these principles, pharmaceutical companies can promote their products in a responsible and ethical manner while also contributing to the improvement of human health.
Disclaimer: The views expressed in this article are of the author and not of Medical Dialogues. The Editorial/Content team of Medical Dialogues has not contributed to the writing/editing/packaging of this article. Vivek Hattangadi has an experience of 47 years in the pharmaceutical industry. He has Headed two divisions of a top Indian transnational before venturing into independent learning and developmental area. Over 17 years as an independent pharmaceutical consultant in the pharmaceutical brand management and sales management. He has written several books for the pharma industry and the entire curriculum and study material for the MBA course in pharma management for Vidyasagar University (West Bengal).