AstraZeneca halts clinical trials of its drugs to treat lung cancer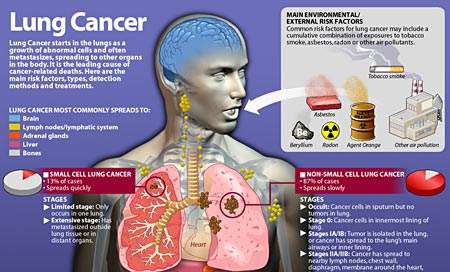 After reports of developing lung cancers in some patients, AstraZeneca has temporarily halted two clinical trials combining experimental drugs to treat lung cancer.

The drug AZD9291, which is currently under regulatory consideration, with the company waiting approval from the authorities, has now reported interstitial lung-disease like report. The trials involve giving its drug AZD9291 alongside the immune system-boosting medicine durvalumab, also known as MEDI4736, to treat patients with advanced non-small cell lung cancer.

A spokeswoman said the tests had been paused due to an increase in the incidence of interstitial lung disease-like reports. No deaths have been reported as a result of the problem.

Patients in the trials will get updated consent forms before deciding whether to continue in the studies.

AZD9291 and durvalumab are two of AstraZeneca's most promising experimental cancer treatments, although their use together in lung disease is only one of many possible applications.

AZD9291, like a rival product in development at Clovis Oncology, targets a genetic mutation that helps tumours evade current lung cancer pills. AstraZeneca has said it could generate sales of as much as $3 billion a year.

Durvalumab belongs to the keenly anticipated class of immuno-oncology drugs known as anti-PD-L1 therapies, which work by stopping a tumour's ability to evade the body's defences. AstraZeneca has forecast it could sell $6.5 billion a year.