BAMS, BHMS, BNYS, BUMS admission in Telangana: KNRUHS notifies about verification of original certificates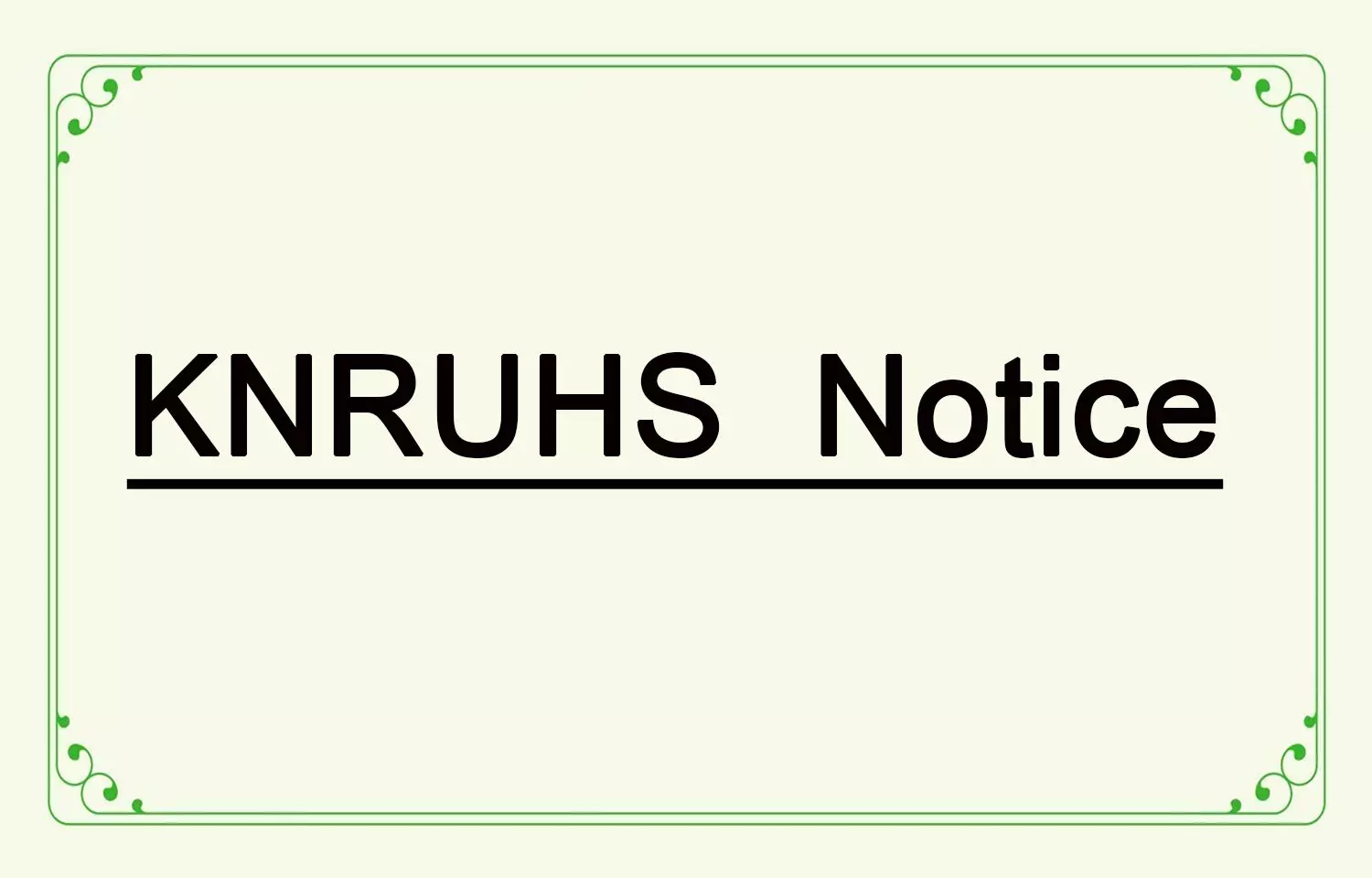 Telangana: Through a recent notice KNR University of Health Sciences, Warangal, Telangana State (KNRUHS) has notified that the first and final verification of Original certificates for Web Based Counseling will be conducted for Admissions into BAMS / BHMS / BNYS/BUMS Courses in Colleges under KNR University of Health Sciences, Warangal, Telangana State.
The candidates whose names have been notified in the provisional merit list to be displayed on 21-01-2021 are directed to attend First & Final verification of certificates at Help line Center at Prof. G. Ram Reddy Centre for Distance Education (PGRRCDE) Osmania University Campus, Hyderabad as per the schedule given below.
Schedule for verification of original certificates candidates rank wise distribution
Date

S.No. in Provisional Merit list

NEET Rank

Reporting Time

From

To

From

To

23/1/2021

1

80

58339

142815

8:30 AM

81

160

143560

170652

10:30 AM

161

240

170714

189750

12:30 PM

241

320

189757

210436

2:30 PM

321

400

210437

230904

4:00 PM

24/1/2021

401

490

231352

248289

8:30 AM

491

580

248781

266881

10:30 AM

581

670

266913

286706

12:30 PM

671

760

286811

304933

2:30 PM

761

850

305006

328271

4:00 PM

25/1/2021

851

940

328561

352532

8:30 AM

941

1030

353615

384633

10:30 AM

1031

1120

384673

423603

12:30 PM

1121

1210

423731

463926

2:30 PM

1211

1300

465757

522883

4:00 PM

27/1/2021

1301

1380

524871

592080

8:30 AM

1381

1460

592204

674371

10:30 AM

1461

1540

676829

774648

12:30 PM

1541

last rank

775198

938844

2:30 PM
Note : All eligible candidates are advised to attend for verification of Original Certificates at Online Counseling centre PGRRCDE, Osmania University, Hyderabad as per above schedule without fail.
Special category candidates verification of original certificates ( NCC & CAP)
NCC Category

27.01.2021

10.00 AM to

1.00 P.M

All Eligible Candidates from 1 to last rank in Provisional merit list for verification

with all original certificates

CAP (Army) Category
The guidelines of Ministry of AYUSH Govt. of India and regulations of Medical Council of India/ NMC shall be observed in making admissions of persons with disabilities (PWD) candidates.
The candidates seeking the benefit of PWD reservation should present himself/herself before the Medical Board constituted by KNRUHS, Warangal for assessment of percentage of disability on 27-01-2021 at 2.00 P.M

The Medical Board constituted by the Competent Authority will examine and assess the percentage of disability of Persons with disabilities (PWD), who have applied seeking admission under PWD quota. The report of the Medical Board is final for considering a candidate under PWD quota as per rules.

Processing Fee: Candidates have to pay a non-refundable processing fee of Rs.2000/- (Rupees Two thousand only) for OC and BC candidates.
For SC and ST candidates Rs. 1500/- (Rupees One thousand five hundred only) to be paid at the time of verification of original certificates.
Note:
Custodian certificates are not permitted.
All the candidates have to be physically present for verification of original certificates .
Original Certificates to be produced at the time of counseling:
The candidates are directed to bring all the original certificates (mentioned below) and one set of self attested Xerox copies.
Hall Ticket of NEET-UG 2020
Rank card of NEET-UG 2020
S.S.C or equivalent examination certificate showing the Date of Birth
Memorandum of marks of qualifying examination in Intermediate or Equivalent Examination
5. Transfer certificate
Study certificates from 6th Class to Intermediate
Candidates who have studied in the institutions outside of Telangana/ Andhra Pradesh have to submit 10 years (years of period to be specified) residence certificate of the candidate or either of the parent issued by MRO / Tahsildar from the Government of Telangana / Andhra Pradesh.
Candidates claiming reservation under Special categories (NCC, CAP) should furnish the required certificate in support of their claim
Permanent Caste Certificate (Integrated Community Certificate) claiming reservation under BC/SC/ST Categories issued by TS / AP Govt.
EWS Certificate issued by the competent authority of Government of Telangana (Tahsildar ) if applicable.
Self Attested copy of Aadhaar Card of candidate and Father and Ration Card.
Undertaking in the form of Affidavit on Rs. 10 /- Stamp paper by the Parent and candidates stating that the caste and area mentioned in the certificates are genuine and they will be held responsible for any further consequences as per law if any discrepancy noticed ( Proforma enclosed)
Schedule and instructions for exercising web options will be notified later.
To view the official notice, click on the following link:
https://medicaldialogues.in/pdf_upload/knruhs-ayush-146506.pdf