NIMA demands including Ayurveda professionals in COVID workforce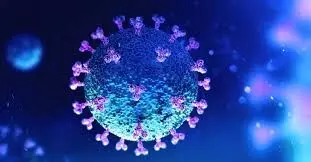 Mumbai: After authorities of the state government started converting many Ayurvedic Medical Colleges into COVID hospitals, the National Integrated Medical Association (NIMA) has recently demanded that Ayurveda medical practitioners should also be given the chance to treat moderate and mild COVID patients in the Ayurveda colleges.

The association further added that Nagpur Medical Corporation (NMC) and State health departments have recently decided to convert two Ayurveda medical colleges in the city into COVID hospitals and this is high time that Ayurveda as an alternative treatment option should be made available to the COVID patients in those facilities.

Dr V. D. Tembhurnikar, President of NIMA told Medical Dialogues that NMC has planned to open COVID hospitals in Government Ayurvedic College and Mulak Ayurvedic college of Nagpur, and the association has demanded that patients should be given the choice of opting for Ayurveda treatment there also just like Arogyadhaam Hospital in Thane where the municipal corporation included Ayurved doctors in the workforce. Thus, patients will get both options – modern medicine and Ayurveda.

Stating that NIMA is always ready to provide any support to the institutions or healthcare facilities that want to introduce the Ayurveda system, Dr. Tembhurnikar told Medical Dialogues, " Our Association has always endorsed integrated treatment since the time of our inception at 1948. Immunosuppression occurs in the patients due to COVID and most of the people who are succumbing to COVID are people with low immunity. Ayurveda can always help in the case of immune building. Our Association has already established more than 1000 community clinics all over the state to extend our helping hand in times of crisis. Actually, there is no real cure for COVID, of course, there are antiviral drugs that can improve the condition of the patient but they cannot be termed as a cure. I think this is high time that we adopt an integrated approach for providing better treatment to the patient and we should start it with Ayurveda colleges that are currently being converted into COVID facilities."

Talking to Medical Dialogues, Dr U. S. Panday, Secretary of NIMA has stated, " There are almost 7 Lakh practitioners belonging to the Indian System of Medicine (ISM) in the country, and the government can take their help also to fight against COVID. If we see the syllabus of B.A.M.S. And B.U.M.S. doctors, we will find that many emergency medicines have a close association with Ayurveda also. It is not that these doctors have no idea about modern medication. They have to learn certain factors of both traditional and modern kinds of treatment. In the ICUs of many private facilities in the state, these doctors are serving as medical officers already."

The doctor further added, " At a time like this when state government is taking the help of ayurvedic colleges to convert it into a COVID facility, the government should as well think of including ISM practitioners in the workforce. All I am saying is employ these doctors for one month and allow them to treat the mild and moderate COVID patients and I am sure that this will only inculcate favourable impact on the healthcare services. COVID patients should also be given the opportunity to secure treatment in traditional disciplines as well as in modern discipline." The association has also submitted a letter to the Prime Minister stating that for the general treatment of COVID, ISM doctors can be proved helpful under the expert guidance of experienced doctors of all disciplines.

Other than this, NIMA has also put forward other demands in the wake of the recent emergence of the second wave of COVID, for instance, closing down Petrol diesel-powered vehicles for a time period to ensure the supply of natural oxygen in the environment, Transferring some COVID L1 Hospitals (asymptomatic positive cases) to a school or college, in the open natural environment, Setting up a high-level central mechanism for the complete distribution of oxygen production, transportation, and supply and so on.