BAMS, BHMS, BUMS, BSMS, BYNS - All can use prefix DR; Health Minister informs Parliament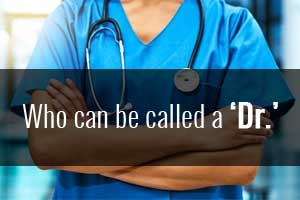 New Delhi: Practitioners of Modern Medicine, Indian Systems of Medicines,as well as Dentistry, who are recognised by the central government- all can use the prefix "Dr" in the country, Minister of State ( Health), Shri Anupriya Patel Clarified in parliament recently
The minister was addressing to a question asked by the Lok Sabha Member Tapas Mandal who questioned which all practitioners can use the " Dr" tag before names and how can a common man differentiate between practitioners of different pathies in this case.
In the lok sabha session Anupriya Patel answered that people holding recognised degree in Bachelor of Ayurveda, Medicine and Surgery (BAMS),  Bachelor of Homeopathic Medicine and Surgery (BHMS), Bachelor of Unani Medicine and Surgery (BUMS), Bachelor of Siddha Medicine and Surgery (BSMS), Bachelor of Dental Surgery (BDS),  Bachelor of Naturopathy and Yogic Science (BNYS), and Bachelor of Medicine and Bachelor of Surgery (MBBS) add the prefix 'Dr' to their names
She further addd that this decision comes after the central government under the Directorship of ICMR had constituted a committee to provide recommendation on the effects/benefits of various system of medicines in the country. The association issued a recommendation which says that the prefix 'Dr' can only be used by practitioner of those system of medicines that are recognized by the central government. The recommendation had been accepted by the government, which has already issued an order in this regard on November 25, 2003.
Further, According to the Indian Medical Council (Professional conduct, Etiquette and Ethics) Regulations, 2002, section 1.4.2 states that Physicians shall display as suffix to their names only recognized medical degrees or such certificates/diplomas and memberships/honours which confer professional knowledge or recognizes any exemplary qualification/achievements. The provision is applicable to the dentist under the revised Dentists (Code of Ethics) Regulations, 2014.
Medical dialogues earlier reported that in the Month of December 2017, Dr. Murli Manohar Joshi, M.P. and Chairperson, Committee on Estimates (2017-18) presented to the Lok Sabha, the Twenty-third Report of the Committee on Estimates (Sixteenth Lok Sabha) on the Subject '
Medical Education and Health Care in the Countr
y' pertaining to the Ministry of Health and Family Welfare (Department of Health and Family Welfare).
Many recommendations were cited by the committee, with one important one being on the
Differentiated nomenclature for AYUSH practitioners. 
The committee has stressed that it is absolutely necessary that AYUSH practitioners do not use the title of "
doctor
" which is synonymous with modern allopathic systems, but rather use the appropriate titles such as Vaidya, Vaidyaraj, Hakim etc
Read Also: AYUSH Practitioners should not be called Doctors, but Vaidya, Vaidyaraj, Hakim etc: Parliamentary Committee