BDS to MBBS Bridge course being finalised by MCI, DCI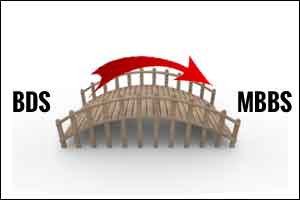 New Delhi: Dentists may soon become Physicians, as the two apex medical bodies , the Medical Council of India and the Dental council of India are in the process of finalizing a bridge course to enable BDS passouts to pursue MBBS in the country.
Medical Dialogues team had earlier reported that in the year 2016, the Dental Council of India had put forward the proposal of a bridge course to the government as a solution to two major problems that the country is facing-  On one hand there is a severe shortage of MBBS doctors particularly to serve in the rural areas, on the other hand dental students are currently facing a large problem of placements and recruitment after the completion of their courses.
Read Also: 
Soon, Dentists to Become Physicians
" We are currently working on the feasibility and modalities of the bridge course." Dr Mishra told Medical Dialogues. The proposal which was given to the government, was forwarded to the Medical Council of India in April 2017. Acting on the issue, the MCI has formed a committee under the Chairmanship of Prof ( Dr) Ved Prakash Mishra, and consisting of Dr Keshvan Kutti Nair, former Vice President, Medical Council of India and  Dr R K Sharma, Prof of Nephrology at Sanjay Gandhi Postgraduate Institute of Medical Sciences (SGPIMS) Lucknow.  While the proposal has found a positive nod from the council, the committee is currently working on the nitty-gritties of the bridge course. The idea is to finalize an ideal three years' condensed course of MBBS after BDS.
The committee has to address a number of technical issues, including the what will be the coursework and the fact whether dental students will have to undergo another round of internship as per the MBBS curriculum. It also needs to be decided where these bridge pass-outs students will be registered ( MCI or DCI or dual registration ) as well as which council will be entrusted with the operations of running the said course.
The committee is soon going to finalise its recommendations and submit it to MCI by December end, Dr Mishra added.
Welcoming the bridge course move, Dr Mahesh Verma, Member, Dental Council of India and Director, Principal, Maulana Azad Institute of Dental Sciences said, " The move will indeed being a win-win situation in the field of medicine and the country. Currently, there is a severe shortage of medical practitioners, particularly in rural areas. As a result, practitioners of alternative systems are thriving who have no knowledge of allopathy. In contrast, the medical and dental curriculum have many common subjects till about first three years of their study after which they each deviate towards more specialized subjects.  A bridge course would be helpful in giving opportunity to dental students to change their fields if they so wish, and much in line with the international practices which are existing in countries such as US and Canada."