BDS to MBBS Bridge Course: Beware of FAKE Notification, MCI issues clarification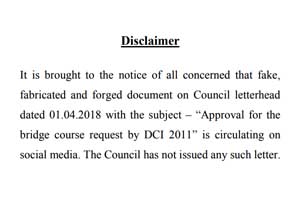 New Delhi: Disturbed by a fake, fraudulent document that has been doing rounds in the social media, implying that BDS to MBBS bridge course has been approved by MCI, the apex medical council has now issued a public notice informing that
no such letter has been issued by the council.
The fake notification, probably intended as an April Fools day prank, implies that the bridge course for BDS to MBBS has been approved by the council. The notification bears the date of 01/04/2018 and contains the subject- Approval for the Bridge course request by DCI 2011. The fake notification goes on to add
"As per the order by National Council of Health Sciences and honourable president of India, we the Medical Council of India like to inform this to The Dental Council of India and all state medical Universities that the petition for the bridge course for BDS students to join MBBS has been approved.As per this order the students who had complete there respective core undergraduate degree,i.e, BDS with complete 1 year of internship with DCI reg. are eligible."
The fake letter goes on to add that more details regarding the matter. While the origin of the letter is not known, it soon went viral on social media and WhatsApp, giving the impression to lakhs of doctors and dentists that the bridge course has now been approved.
Disturbed by the circulation of the fake document, the Medical Council has now issued a DISCLAIMER on its official website informing about the fake, fabricated and forged document circulating on social media
It is brought to the notice of all concerned that fake, fabricated and forged document on Council letterhead dated 01.04.2018 with the subject – "Approval for the bridge course request by DCI 2011" is circulating on social media. The Council has not issued any such letter.
Medical Dialogues team had earlier reported in the year 2016, the Dental Council of India had put forward the proposal of a bridge course to the government. The Medical Council of India is pondering over the matter, but no decision has been taken by the council as yet.
Read Also: BDS to MBBS Bridge course being finalised by MCI, DCI
THE FAKE DOCUMENT looks as follows