Bengal: Doctors, first attacked by mob, then face CMs Wrath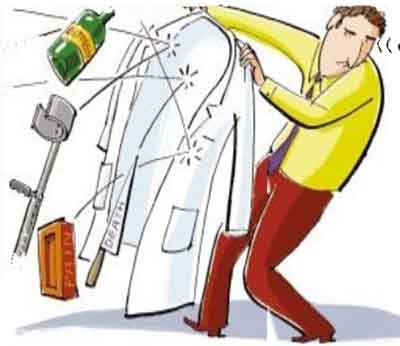 Kolkata: In an unfortunate incident, doctors practicing with SSKM Hospital in Kolkata, were not only beaten up by a mob of 40 patient relatives, but also had to bear the CM's wrath for not providing care to the patients properly.

On Monday night, Junior Doctors of SSKM hospital landed up in a scuffle with the relatives of a deceased patient, who had passed away at the hospital. The hospital soon turned into a battle ground with both sides getting violent on each other. It is reported that junior doctors at the hospital following this incident , where one doctor had been injured,  ceased work, demands security to be immediately tightened at the hospital premises reports TOI

CM, Mamata Bannerjee, who also holds the health portfolio, on Tuesday made a surprise visit to the hospital. This visit, turned out to be difficult for the doctors and the management who were severely lambasted by the CM, reports India Today

"Changramo hocche?" she asked, lambasting the management. "Every patient must get primary treatment before reports confirm anything. Relatives of patients must be carefully treated, and doctors should be more patient while interacting with them. Why should they behave badly? They should understand the situation and act accordingly," she said.

The said hospital falls under the constituency of the minister. The minister has promised to take measures to improve the service delivery at the government hospitals in the state.

With regards to the assualt, three people namely Sanjay Das alias Sanju, Ram Mohan Roy alias Dulu and Suvankar Das alias Bunty, all residents of Bijoy Bose Road, have been arrested by the police so far, being booked under Sections 341 (wrongful restraint), 323 (voluntarily causing hurt), 114 (abettor present when offence is committed), 427 (mischief causing damage ), 353 (assault or criminal force to deter public servant from discharge of duty) of the Indian Penal Code.