Beware: PGIMER cautions against Fake Recruitment Scam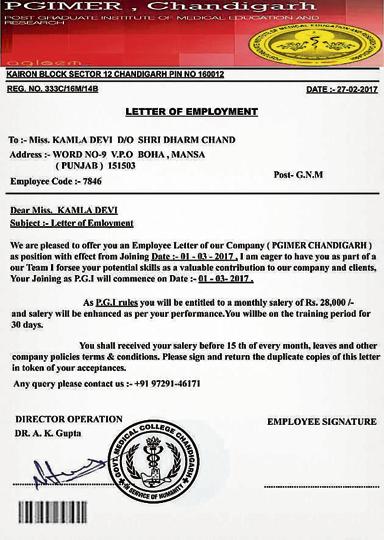 Chandigarh: Flummoxed by a woman's demand for a posting at PGIMER on the basis of a genuine-looking appointment letter, the prestigious institute has cautioned people against a racket offering jobs.
"Fraudulent appointment letters with PGIMER logo and address are being issued by conman to fool people and take money from them," a PGIMER spokesperson said.


She clarified that the institute is not issuing such appointment letters even online or through social media.

The appeal has been issued by the Post Graduate Institute of Medical Education and Research (PGIMER) after a woman from Punjab's Mansa district came to "join" the institute.

The woman was having a fraudulent appointment letter with PGIMER logo.

The appointment letter has a fake signature of Dr AK Gupta, medical superintendent , PGIMER. It has two logos; one of PGIMER and the other of Government Medical College, Chandigarh.

HT reports that In 2015, a recruitment scam at the PGIMER came to the fore, wherein people claimed that they have received calls and were being asked to pay money to ensure that they get the job of technician at the institute.