Bihar: Doctors to pay Rs 3.51 crore for performing unwanted hysterectomies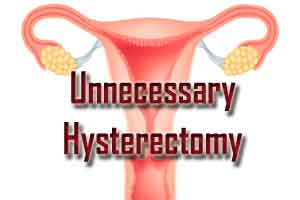 Patna: The state government, coming down strong on the medical practitioners who were involved in the so called uterus scam of 2012, is all set to recover Rs 3.51 crores from them on account of performing unwanted hysterectomies on 703 BPL women in the state. CM Nitish Kumar, is reported to have directed the state home department officials to recover the said amount from the accused doctors at the rate of Rs 50,ooo per surgery.

The case goes back to the year 2012, when reports of a uterus scam in the state came out, revealing that medical practitioners had operated out the uterus of 703 Below Poverty line women in order to claim money under the health insurance scheme

TOI reports that The Bihar Human Rights Commission (BHRC) earlier this year, in this regard directed the state government to pay Rs 18 crore as compensation to the identified 703 women. The compensation was decided at the rate of Rs 2.5 lakh each to the victims in the age group of 20-40 years and Rs 1.5 lakh each to the rest of them. The 703 women reportedly include a 20 years old, 103 women in the age group of 20-30 years and 288 women between 30 to 40 years, all of whom were in the reproductive age group but now are unfit to attain motherhood on account of the hysterectomies.

CM Nitish Kumar however  reduced the amount of the said compensation to Rs 50,000, while directing the state home department officials to recover the amount from the accused doctors.

Earlier in the matter, the DM, heading the probe reported that the removal of uterus of the 703 women was not medically required to treat their ailments which were as trivial as abdomen pain. The said operations were conducted under the Rashtriya Swasthya Bima Yojana initiated by the Centre in 2008, a scheme under which unorganised workers are provided with cashless health insurance cover. Private medical practitioners and hospitals across different districts of Bihar were paid insurance money of about Rs 1,500 to 2,000 each for 46,690 uterus removal surgeries in 2012, of which these 703 were found unwanted by probe.

The state health department as per the directions of  the CM has written to the district civil surgeons to identify the doctors from whom the compensation amount has to be recovered.

FIRs were also lodged against 13 doctors and 33 hospitals soon after the DM concluded their probe into the scam. However, no arrests were made as they either obtained bail or were reported as absconding in the police files.

The MCI on the other hand, has received suggestions from both the state government as well as the BHRC to cancel the registration of the accused doctors, to which the ethic's committee of the MCI is yet to respond.